Student Council Exec. Board Elections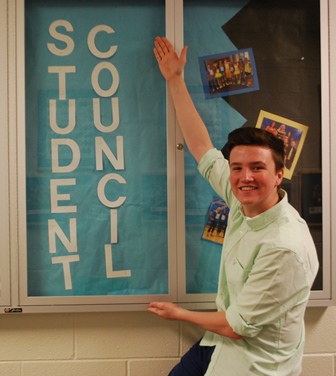 The 2015-2016 Student Council elections are here once again. This year's candidates included Morgan McDonough (11) and John Powell (11) for president, Eric Yun (10) and Serena Panos (11) for Public Relations, Rose Ferolo (11) for Secretary, Connor McNamera (11) for Treasurer, and Dylan Cohen (10), Lauren Katz (9), and Kenny Dantes (11) for Representative. Students on the Executive Board notoriously are leaders, have great people skills, and are very creative. Two new faces to the Executive Board are Morgan McDonough as President, and Kenny Dantes as a representative.
Morgan McDonough has been involved in student council since fifth grade. He has held many positions since then which include Senator, Secretary, Vice President, and President. And President again next school year. He ran for student council for the seventh time because he believed that he has represented his class well and the students were familiar with him. As President, he said he wants to "Make the school a better place for people and not change things but create new things, have new ideas, so more opportunities are open for people. McDonough's confident, outgoing personality and his great leadership skills helped him win President. Some plans that McDonough has are clearing up the confusion about dances like Winter Fest; "I feel like for Winterfest that we should definitely encourage it more and make it kind of like the Cold Dance and so that you get the fun of the Winterfest and the fundraising of the Cold Dance."Also, for Spirit Week, he would like to change up the clothing theme ideas because he feels like the past couple of years they have all been the same things year after year. Finally, one thing he would change about the school is making sure the students are not divided. He would like to bring each grade more together whether it be activities during assemblies or meeting at fundraising events like Feed My Starving Children outside of school.
"
Make the school a better place for people and not change things but create new things, have new ideas, so more opportunities are open for people."
— Morgan McDonough
Next year will be Kenny Dantes' first year a part of student council. He feels very privileged to have a role in student council: "The support from the students currently in the Exec Board was extremely beneficial towards my placement into Exec Board, especially from Jack Brandl. He approached me with the idea of joining Exec Board and pretty much showed me the ropes." said Kenny. Dantes is looking forward to see the changes from this year and next years Board, "I don't only want to carry on the success this year's Exec Board has already established, but to furthermore improve our efforts our efforts towards building a positive  and encouraging environment this school already has." Knowing that next year the Board will have some big shoes to fill, Dantes hopes they can introduce similar successful ideas like #VHGIVE that will not only benefit the student body but the whole Vernon Hills community. Finally, Dantes is not nervous going into next year because "we know the Exec Board has always been successful, so we have every right to be confident in the decisions we make."
Congratulations to all the students a part of next years Executive Board!