Five shows to binge over break
With finals before winter break, you can now spend your two weeks of break not worrying about studying, but instead enjoying it by doing whatever you please. Like a typical young student, most of us might spend it catching up or starting our Netflix and other TV binges. Here are my top five show recommendations that you should definitely consider binge watching over the break.
Flaked (Netflix)


photo courtesy of Comingsoon.net
This Netflix original centers around Chip (Will Arnett) who leads an Alcoholics Anonymous group in Venice Beach, CA. Chip appears to be the go-to-guy for other characters facing alcohol addiction, but in reality he has just as much baggage and is still using himself. Along with the main character Chip, are his friends Dennis (David Sullivan) and Cooler (George Basil), and love interest London (Ruth Kearney). Throughout the 10 episodes, we watch Chip's dramatic life unravel before us until the very end. The music that accompanies the series is also very solid and was one the factors that really added to the overall great quality of the series. Music from indie bands like Hinds, Kurt Vile, and Local Natives really helps create the mood of the easy-going life that Chips lives in Venice Beach. The show is a great mix of comedy and drama, and I highly recommend it. Flaked is currently filming season two and will hopefully be released this spring or summer.
Bojack Horseman (Netflix)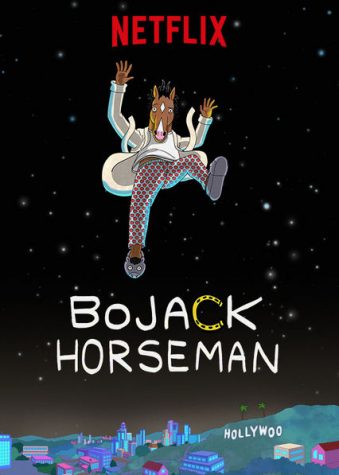 This Netflix original animated comedy, already in its third season, centers around Bojack Horseman (Will Arnett), a self centered washed-up actor trying to make a comeback and regain his pride after being on a subpar 90's sitcom "Horsing Around". Along for the comical ride are his rival actor Mr. Peanutbutter (Paul F. Tompkins), agent Princess Carolyn (Amy Sedaris), friend Todd (Aaron Paul), and book writer Diane (Alison Brie). The series follows him complaining about his life and trying to get back on his feet. This a great comedy series, and I highly recommend it for those who are fans of Archer and other animated comedies.
Black Mirror (Netflix)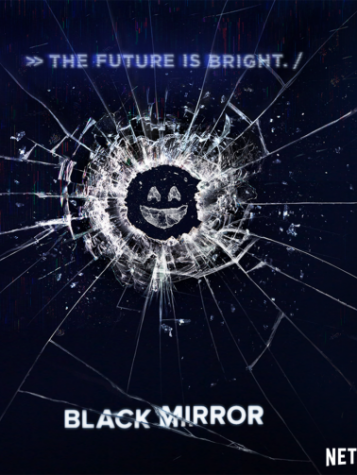 This series, which originated in the UK and got picked up by Netflix in its third season, is a modern day Twilight Zone. Each episode is a stand-alone drama and centers around the effects and paranoia of our technology obsessed society. The creator, Charlie Brooker, does an excellent job of creating a dark, suspenseful, and satirical theme and storyline each episode. Just watching one episode will leave you with many questions and a sense of uneasiness. I highly recommend this show for fans of the Twilight Zone or Mr. Robot.
Unbreakable Kimmy Schmidt (Netflix)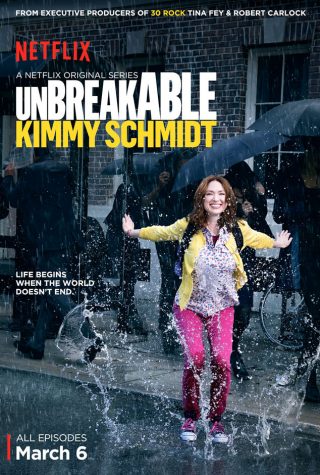 This Netflix original comedy series centers around a recently rescued young woman. Kimmy Schmidt (Ellie Kemper), was rescued from a 15-year long doomsday cult where she was kidnapped and trapped in a bunker by cult leader Richard Wayne Gary Wayne (Jon Hamm). The series follows her highly enthusiastic adjustment to present day in New York City with the help of her roommate Titus (Tituss Burgess), who introduces and leads Kimmy in the unfamiliar world of iPhones, dating, and more. Alongside Kimmy and Titus are her landlord Lillian (Carol Kane) and friend Jacqueline (Jane Krakowski). I highly recommend this show to any fans of Crazy Ex Girlfriend or Parks and Rec.
WestWorld (HBO)
Based off the 1973 film Westworld, this HBO series centers around a Western themed animatronic amusement park set in the future where rich guests visit to fulfill desires not met in the real world. But all doesn't seem quite right or perfect when the robots or 'hosts' start retaliating, which goes against the park's main idea of "no consequences". This combined sci-fi western keeps you on the edge of your seat and wanting more every episode with its constant plot twists and turns. The scoring of the series is also beautifully crafted with its instrumental string quartets, and it adds to the eeriness of the secrets within the park. The series is already set to start filming season two this summer, and is looking at a release date sometime in 2018. I highly recommend this show to fans of Lost.