VHHS HONORS A MONTH OF AWARENESS
BY  MAYA WADHWANI
VHHS promotes awareness during the months of September and October through club events. October is declared as National Breast Cancer Awareness Month as well as Hispanic history month, LGBTQIA+ history month, and Mental Health Awareness month. The VHHS community tries to recognize diversity and work on being an even more inclusive community. 
Girls Varsity Volleyball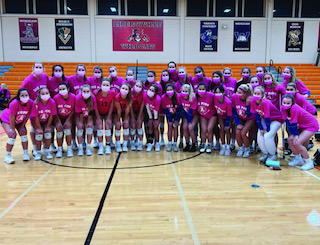 October is National Breast Cancer Awareness month, which means the VHHS Girls Varsity Volleyball team is hosting their annual Dig Pink game against LHS. To boost excitement for the event, the players wear pink jerseys and decorate the main gym in pink.
   Alexa Cieslinski (12, she/her) has been on the team since freshman year and has experienced the powerful impact the Dig Pink game has on the community. 
   "To me, [Breast Cancer Awareness month] means supporting other people that struggle with the cancer or know someone that has struggled with it," Cieslinski said. It's a good way to bring awareness to the situation so I'm glad I'm able to help participate in this for other people." The VHHS community can help to raise awareness by participating in the Dig Pink raffle, purchasing baked goods at the game, as well as donating to charities also supporting this cause. 
SAGA (Sexuality and Gender Acceptance)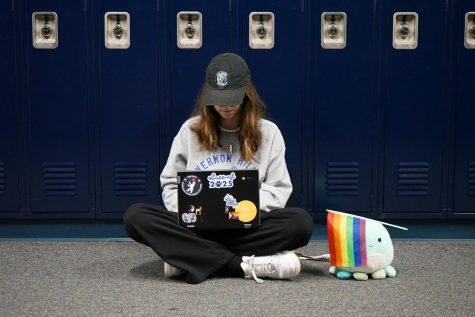 October is also LGBTQIA+ History month. At VHHS, the Sexuality and Gender Acceptance club (SAGA) helps represent students in the LGBTQIA+ community. English teacher, Amy Christian (she/her), has been working at VHHS for the past 13 years and joined SAGA as a co-sponsor in 2012. 
   Over the years, the VHHS community has expanded on its inclusivity of the LGBTQIA+ community. A way this was done was when SAGA students created [a] Day of Solidarity based on the Day of silence which is the second Friday of April.
   "On Day of Solidarity, students and staff wear a certain color in honor of the people that have stood up against others who tried to silence them," Christian said.
   SAGA's main focus is supporting VHHS students in the LGBTQIA+ community and raising awareness for allies and how to support.
   "[The ultimate goal of SAGA is] to create a positive and overall safe space where students feel like they belong, and can be themselves free of judgment or shame and interact with other people who share their values," Christian said.  
   This month isn't only important to students, but to VHHS staff as well.
   "To me, this month means that students today, no matter if they're part of the community or not, they see they're not an invisible set of people. It's not an invisible history anymore, it's making it known and shared," Christian said.
LASO (Latin American Student Organization)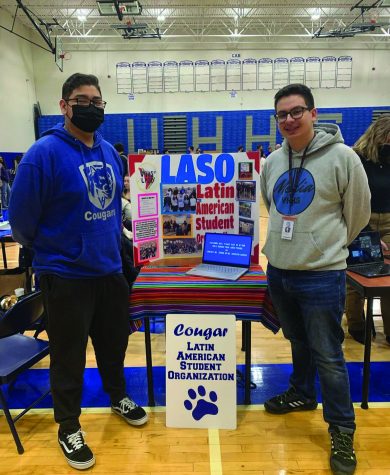 At VHHS, LASO (Latin American Student Organization) is focused on bringing the Latin American community together to make VHHS more aware of the Hispanic community.
   LASO honors Hispanic Heritage month with activities such as bingo and trivia. Aniela Meza (11, she/they) has been a part of this club for the past three years and enjoys advocating for people in the Hispanic community.
   "I've always felt like heritage isn't seen…this is our month, where our independence is recognized," Meza said.
   While VHHS acknowledges and supports its Hispanic population, there are still ways the community can be more inclusive. This can be achieved by making sure everyone is culturally aware of boundaries that shouldn't be crossed as well as respecting others' past experiences and backgrounds. 
   ¨I've been through things like discrimination and all that with my culture and my race. I think it's just very important to me, for us, for Vernon Hills High School to celebrate it, because we need to be culturally aware of everything," Meza said.
SPARK – By Jenna Posluns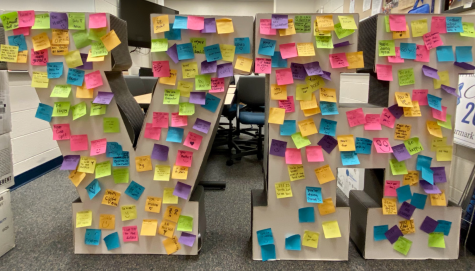 Every year SPARK promotes Yellow Ribbon week activities to spread awareness of Suicide Prevention month. 
   Cynthia Salmeron Hernandez (12, she/her), an executive member of SPARK, addresses why October is an important month.
   "It's a month where we [SPARK] do a lot of fun activities to show that everyone is loved and cared for. One time we took post-it notes and someone would write something nice on it and someone else could take another one or leave a positive note that they needed to hear which would help our whole community be stronger. together," she said.
   SPARK believes in bringing people together, having each other's backs and making sure everyone's voice can be heard.
   "I think it's important because there's a lot of people out there suffering, most people like to stay silent because they think that it's something they should keep to themselves. We want people to know that isn't really the case. You should be able to talk to someone when you need to and be able to get back to where you want to be. It's really nice to know that you have support from others," Salmeron Hernandez said.