Fundraising for VH Alum
Tierney Darden (Class of 2009) suffered a spine injury on August 2nd. A storm suddenly blew through O'Hare Airport while her and her family was returning home to Mundelein from her sister's wedding preparation in Minneapolis. When seeking shelter under the O'Hare bus vestibule C, the storm caused the shelter to fall, leaving her paralyzed from the waist down. According to a lawsuit her family filed against the city of Chicago and the Chicago Department of Aviation, Darden suffered a severed spine, a broken rib, and torn muscles. The dancer no longer has use of her legs (ABC 7 News).
Darden was a four-year member of the Varsity Dance Team, leading them to two state championship titles, one in 2008 and another in 2009. She is a four-year letter-holder in Girls' Lacrosse. Additionally, her father, David Darden, has been a JV Girls' Lacrosse Coach here since 2003. Darden also participated in Orchesis, Choir, Student Council, SPARK, and VIP. Post-graduation, Darden served as the 2011-2012 season Assistant JV Pom Coach at Vernon Hills High School.  She choreographed the team's state dance and Pom routines, which took first and second place in their respective categories.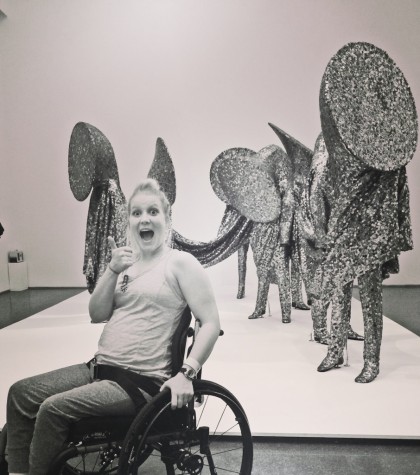 After Tierney's accident became public, Samantha Phillips, a 2008 graduate and Dance Team alum reached out to the Darden family asking if she could work with the school to put together a fundraiser for Darden.
She communicated with Athletic Director Brian McDonald and Cougar Athletic Booster President Renae Renihan to put together a fundraising event for Darden. With the help of alumni Dance Team members, their families, and the Girls' Lacrosse Team a fundraiser was hosted during the Varsity Boys Soccer and Football games on Friday, October 2nd.
The theme for their fundraiser was #TierneyStrong. It consisted of a donation table and bake sale located near the cougar spirit wear and concession stand. Donations were made to Darden's rehabilitation, visitors wrote encouraging messages, and baked treats were purchased.  Anyone who made a donation to the Tierney Darden Rehabilitation Fund received a blue glow-bracelet to wear in support of Darden.
In addition to the bake sale, Darden's family walked through the stands and sold 50/50 raffle tickets throughout both games. The 50/50 raffle winner received 50% of funds raised, and also two tickets, worth $75 each, to the upcoming D128 Foundation for Learning fall benefit.
According to school officials, more than $6,000 was collected in support of Darden (Chicago Tribune).The funds will help cover the costs of home modifications and adaptive changes to improve her quality of life when she returns home from rehabilitation. Adaptive renovations for her home are needed to make her home ADA (American with Disability Act) compatible and wheelchair accessible, like ramps, hard surfaced flooring, and kitchen and bath renovations.
Additionally, money raised will also help cover her medical expenses, such as being fitted for a customized wheelchair, outpatient therapy, doctor visits, and daily medication.
"Thank [you to] everyone who has or will be [contributing] to the fundraiser, whether it be monetarily or action-based, or simply by expressing their concerns and well wishes to Tierney and the rest of [our] family."
If you missed the event, donations can also be made online at the Cougar Athletic Boosters website. All of the donations received online and at the Homecoming fundraiser will be put into a trust for Darden which is used to cover the costs of her rehabilitation, medical needs, and home renovations.