Senior lip sync competition goes "green"
This August, the school year once again 'kicked off' with the Senior Lip Sync Competition. The competitive energy was plentiful with seven teams this year: Ginger Ale, Dough Boys, Mavericks, Men in Green, Soul Sisters, Pushing 23 and Swagway Surfers. After performances that included songs like "I Ain't Worried" from "Top Gun: Maverick" and "Jingle Bell Rock" from "Mean Girls," The Men in Green took the cake.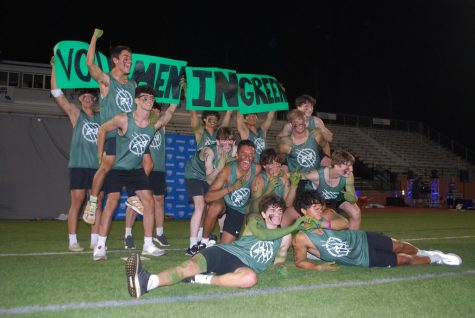 Although the performances were purely for entertainment, the groups put a lot of effort into making organized, well-rehearsed and funny routines.
"We made sure we got everything synced up perfectly, and we practiced every single part one by one," said Dennis Tur (12), a member of the winning team, Men in Green. 
While several groups had key coordinators that helped choreograph dances, the Men in Green had outside help from the sister of Erick Herrera, another member of the team. 
"Nikki Herrera came through, she was an amazing coach. She really made sure we kept actually practicing at practices," said Papiernik.
According to Tanner Papiernik (12), another member of the Men in Green, the name came from the group's random inclination to have their Bitmoji icons wear green dresses.
Ginger Ale, a group whose name came from Evan Hessel's (12) famously bright red hair, was confident they won second place despite the unreleased vote results. Hessel was proud to represent his team as the "mascot." 
"I just stand there and look pretty, that's my job," he said.
The performance took "blood, sweat and tears" according to Hessel, and had gimmicks like Noah Grijznstein (12) dressed as Pitbull and a lightsaber duel between Gabby Reyes (12) and Nolan Lazor (12), 
Despite the creativity of every group's performance, it was clear to the audience that the Men in Green were the deserving winners, with a dance to Beyonce's "Single Ladies," and a surprising stunt from Jack Ziemke (12) doing the splits.
"[The Men in Green's performance] was really well rehearsed. They were almost perfect, and they were together the entire time," said Danny Conlon (12), a fellow competitor on Swagway Surfers. 
Conlon recalled his favorite experience from Swagway Surfer's performance, which included the 'got Krissed' meme, Sofia Kim (12) singing as a Minion and Katie Kim (12) asking if the audience "wanted a break from the ads."
"We decided to be funnier if it were a guy who [wore a dress], and I jumped at the opportunity because that sounds funny," he said. "I had to run off stage, take off my flippers as fast as I could, and just put on a dress."
The competition was friendly and matched the laid-back, celebratory nature of the Kickoff Party. 
"I didn't feel there was any kind of rivalry because a lot of us had friends and other groups… And even before the dances, we'd wish them good luck," said Conlon. "It was more just light-hearted and fun."
Papiernik whipped up controversy, suggesting that there wasn't too much competition because some groups failed to perform at an equal level to theirs. 
"We thought there was gonna be a rivalry between us and Dough Boys, but according to the public opinion of what I've heard, it wasn't super close," he said. 
Conlon recommends the lip sync competition to future seniors, as he is grateful for the unique experience. 
"Freshman year, I remember watching it and thinking, 'I could never do that,'" he said. But here I am, having finished it. Even if you're kind of scared of it, I'd say still do it because it's a lot of fun."