Owen cooks up holiday recipies
Cultures all over the world have made thousands of unique dishes from the plants and meats available around them. The obvious reason here is because humans need food to survive, but more than that, good food tastes amazing, and it brings people together.
I'm going to tell you about four of these amazing holiday dishes and, hopefully, you can learn about something you never knew you wanted to try.
Pumpkin Pie
Apple pie is an American classic that many Americans bake for their families to enjoy during the holiday season. But I'm allergic to apples, so it's lucky that sophomore Hanna Dove recommended her Grandma's pumpkin pie recipe.
Pumpkin pie is another classic American baked-good, usually prepared during autumn and early winter in time for Thanksgiving, when pumpkins are in season.
Like most other pumpkin pie recipes, Dove's Grandma starts off a pumpkin pie by making a purée— a creamy substance usually made from crushed vegetables—with added spices such as cinnamon and nutmeg for an extra pop of flavor.
This recipe was also made using homemade dough, which is great because I love baking, but also terrible because pie crusts are known for being fickle.
Pie pastry is made from combining mostly flour and cold water, but unlike most other baked goods where the margin of error is a slap on the wrist, pies are ruthless and will not come out right if you don't have the perfect ratio of flour to water. I accidentally rolled the crust too thick and had to smush it together and roll it out again, which is not what you want to do since pie pastry is supposed to be only partly put together.
I decorated mine with some bananas and honey, an improv of my own, to cover up a big crack in the pie from me cooking it a bit too long. The pie crust acted as a crunchy delivery system for the purée, which was dense yet soft, but it had the serene sweetness one would expect from grandma's pie.
This pie is especially important to Dove because she and her grandmother figured it out together.
"The recipe itself was from my great grandmother, but we kinda figured out the crust ourselves, which was pretty special," Dove said.
Recipe:
Ingredients for crust:
1 1/4 cups sifted flour
1/2 teaspoon salt
1/2 cup shortening (crisco)
2 1/2 tablespoons cold water
Steps for crust:
Cut 2/3 of the shortening into flour until fine as meal.  Cut in remaining shortening until pea-size. Sprinkle water over mixture. Prick bottom and sides with a fork. This keeps it from bubbling out of shape. Bake the crust, without mixture, at 375  degrees for 4-5 minutes to keep it from being undone.
Ingredients for purèe:
1 16 oz. can pumpkin
3/4 cup sugar
1 teaspoon ground cinnamon
1/2 teaspoon ground ginger
1/2 teaspoon ground nutmeg
1/2 teaspoon salt
3 eggs
1 12 oz. can (2/3 cup) evaporated milk
1/2 cup milk
Steps for purèe:
In a large mixing bowl combine pumpkin, sugar, cinnamon, ginger, nutmeg and salt. Add eggs into pumpkin mixture. Add milk and evaporated milk; mix well. Place a pastry-lined 9 inch pie plate on oven rack; pour in pumpkin mixture. Bake in a 375 degree oven for 50 minutes. Center of pie should be solid. Check doneness by inserting a butter knife off-center into pie. If knife comes out clean, pie is done. If not, bake a few more minutes. Cool. Cover and chill to store.
---
Buñuelos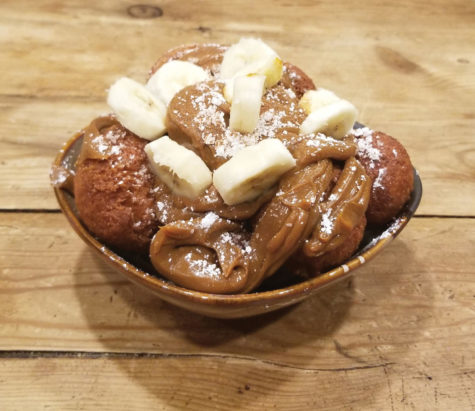 Buñuelos are fried balls of cassava flour dough, with cotija cheese mixed into the dough, mostly made during Christmas.
These are from Latin America, Spain, and even parts of Asia, such as the Philippines, but I specifically made Colombian-style buñuelos using my grandma's recipe.
Buñuelos are a very customizable dish because they're literally just dough, so you can do whatever you want. Because I wanted something sweet, I decorated mine with some powdered sugar, dulce de leche and bananas. Dulce de leche is like caramel, but it's more of a paste and it's made from milk.
Buñuelos are very easy to make, as the process of mixing the dough is very simple, and the frying process is just to cook them in oil until the Buñuelos golden brown. It took less than a half hour to actually finish these, and they came out great, so I'd for sure make these again.
These tasted sweet from the sugary substances, but had a nice tang from the cheese mixed into the dough, making it kind of like a cheesecake. But, this versatile dish can be served with sweet dulce de leche, plain, or anything in between.
Recipe:
Ingredients:
Vegetable oil (for frying)
¾ cup cornstarch
¼ cup yucca flour
1 cup cotija cheese (finely grated)
2 eggs
¼ teaspoon baking powder
2 tbsp sugar
Pinch o' salt
1 tbsp milk
Steps:
Place all ingredients except oil in a bowl and mix until dough is together. Do not overmix this. Heat up vegetable oil in a pot deep enough to hold the Buñuelos. Roll dough gently into about tablespoon-size balls. Drop a bit of dough into oil, if dough bubbles, then oil is ready. Slowly place the Buñuelos into the oil and cook for 5 minutes or until golden brown on all sides. Take out and drain. 
---
Chirashi Zushi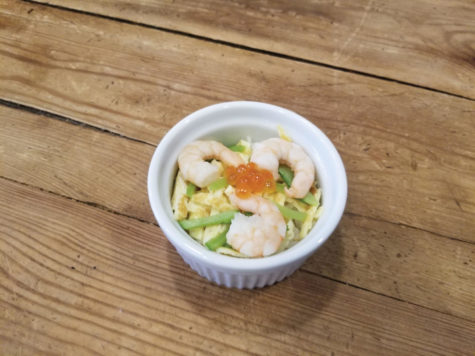 This next dish was a bit different because I'm not familiar with it as I haven't really cooked any asian food before. Luckily, Hina Takenaka (11), and her mother, were generous enough to pretty much make this whole thing for me, and after eating, I can tell that was a great decision as it came out awesome.
Chirashi means to spread, which is why the chopped eggs, chopped snow peas, salmon roe (eggs) and shrimp are spread over the rice, and zushi means sushi, so I think you get that part.
This dish is meant to be colorful, hence the beautiful assortment of foods on top of vinegar-cooked rice, and it's usually made for a day called "Hina Matsuri" which is a holiday celebrating the daughters of the households in Japan every March 3.
I'm very grateful to Hina and her mom, because this dish truly does taste great from the assortment of flavors it brings to the table.
With one bite, it's both sweet from the sugary peas, but also savory from the vinegar-cooked rice and eggs. These don't conflict, but instead complement each other, and are enhanced by the tender texture of the shrimp and salmon roe to create a very interesting and diverse blend of flavors exactly as the dish visually intends.
"It's probably one of my favorite Japanese dishes. I ask my mom to make it for me every single year for Hina Matsuri," Takenaka said.
Recipe: 
Ingredients:
2 cups sushi rice
8 shrimps 
2 large eggs 
50g/1.8oz salmon roe, finely diced 
40g/1.4oz snow peas
Steps: 
In a small saucepan with boiling water and a tablespoon of vinegar, add the shrimps and cook for a couple of minutes.
For snow peas
Break the stem end of snow pea gently and remove the peas from their pod.
Place the snow peas in a microwave safe bowl with a small amount of water, sprinkle a tiny amount of salt and cover with cling wrap. Cook for 1 minute.
Rinse under cold water to quickly cool them down. Pat dry with a paper towel.
Cut each snow pea into thin slices. 
For eggs
Crack eggs into a bowl and mix until blended homogeneously. Pour mixture into a buttered saucepan and cook until they become an omelette that is not runny. Cut it into 5mm wide slices. 
For rice
Add a tbsp of vinegar (or more, if needed), and 3-4 cups of water into a pot and cook covered for about 20 min. Taste to see if its done. Stir frequently to prevent rice from sticking to the pot. 
Finally, put a bit of rice into a bowl and spread slices of egg and peas over it, placing shrimp on top of the rice and slices and then placing the salmon roe on top the shrimp.
---
Dolma
First off, Dolma is very time consuming to make because you really have to pay attention to each component during the cooking process, as it is very easy to mess this up and it could take 1-3 hours.
I am a bit familiar with Dolma, as it is a food I remember eating with my Jewish family, and this is a trait I share with Itamar Shifrin (12), the guy who recommended this dish to me. 
He's Jewish and his mother is from Azerbaijan. She's the one who cooks in the family and one of her recipes is Dolma. Dolma isn't necessarily Jewish, but it is found a lot in Israel, and the whole Mediterranean area, especially for the holidays and special occasions due to the cooking time. 
Dolma is usually made up of ground meat and rice wrapped in grape leaves, all after being marinated in different mixtures for a while.
The taste has this fun and exciting tang, especially if you add some drops of lemon juice, as I did. Everything just comes together in these wraps to make a juicy sort of savory flavor that is immediately recognizable as meditteranean. 
"You don't really find it here in America, so it's a tie back to my family's heritage, but it's good anywhere you eat it," Shrifrin said. 
Recipe: 
Ingredients: 
1 tablespoon olive oil
2 onions, minced
1 1/2 cups uncooked white rice
2 tablespoons tomato paste
2 tablespoons pine nuts
1 tablespoon ground cinnamon
1 tablespoon dried mint
1 tablespoon dried dill weed
1 teaspoon ground cumin
1 (8 ounce) jar grape leaves, drained and rinsed
Steps:
Saute onions until tender in oil on a medium heat. Stir in rice and hot water to cover. Cover and simmer until rice is half cooked (about 10 minutes). Remove from heat and stir in tomato paste, pine nuts, cinnamon, mint leaves, dill weed and cumin. Now let that cool. Rinse grape leaves in warm water; drain and cut off any stems. Place about 1 teaspoon of the cooled rice mixture in the center of a leaf. Fold in the sides and then roll into a cigar shape. Place in an oil-lined pot. Repeat with remaining ingredients. Pour in just enough warm water to reach the bottom of the first layer of dolmas. Cover and simmer over low heat for 30 to 45 minutes, or until the rice is completely cooked. Check the water level often and add more as necessary.