Winter sports come to a conclusion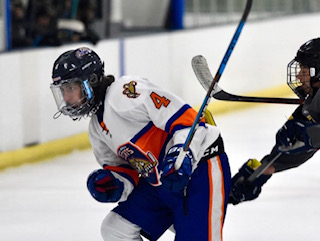 As the frost begins to clear out, so do the winter sports at VHHS. Athletes from all grade levels have thrived in their sports during the 2022-2023 season. 
Nico Robles (9) is one of the four freshmen that were recruited to play on the VHHS sophomore basketball team this season. 
"[The basketball season had] ups and downs, but overall it was a pretty good experience, getting to play with kids I've never really played with. It was kind of like a family culture, which was very nice as a freshman," Robles said.
The Varsity boys' basketball team lost by 4 points against the LCHS Eagles, leaving them ranked at 11th. 
Varsity gymnast, Annika Chudy (11) excelled this season. Her hard work paid off and she brought home 2nd All-Around, 3rd in Vault, and 5th in Beam at State after also finishing first at Regionals and Sectionals with her team. The team placed 2nd in State. 
"It's going really well. We've improved throughout the season, we're definitely getting more consistent which is really really good, and I'm excited to bring that consistency to State," Chudy said. 
Quami Ray (9) was the team captain of the JV boys wrestling team during the 2022-2023 season. 
"Personally, [the wrestling season] has been great. I wrestled a couple of Varsity matches and I won one and lost three, and in total, I've wrestled 24 matches and won 18 out of those matches," Ray said.
This season, Zackery Shoemaker (10) improved from being on the JV bowling team last year and making varsity this year.
"For me, [the bowling season] was better than expected, I've made a lot of improvements since last year. Last year I was half varsity, half JV and I made it to the Sectional team. And then this year I was the best bowler," Shoemaker said. 
By the end of the season, the VHHS boys' bowling team placed 4th in Conference.
Lora Kashidova (10) is a varsity wrestler on the VHHS girls' wrestling team. She speaks about her experience on the positive development of the team as a whole. 
"Well, it's pretty great that it's such a growing new thing for girls to be competing in. Last year we didn't even have a Conference and this year we've had enough people to have a Conference and next year we might have enough to have a Regionals," Kashidova said. 
Beatriz Gatmaitan (11), began her first season on the girls' JV bowling team this year. 
"Personally, the [bowling] season went super well. It was really fun. I learned a lot about bowling and it takes a lot of focus and a lot of practice because it's very hard to stay consistent," Gatmaitan said. 
By the end of the season, the girls' bowling team placed 1st in Conference, 2nd at Regionals and 3rd at Sectionals. After these events, the team made it to State where they placed 23rd. 
Fervent female fencers, Christine Lee (9) and Lauren Kendrick (9) lunge their way to the top during their first high school fencing season. Lee reminisced about her experience on the team.
"The season was really good, it was so fun and seeing these different people from all these different schools, you get to meet so many new, awesome people," Lee said. 
Alongside this, Kendrick explains her relationship with the sport. 
"I'm kind of obsessed with fencing. Just because we have such a great community, I literally would not have been friends with Christine [Lee] if it weren't for fencing," Kendrick said. 
The girls' fencing season concluded at the Great Lakes Fencing Conference. For the Individual Championship, Bethany Boehmer (12) took 3rd place in Women's epee and for the Team Championship, the Thundercats (VHHS and LHS fencing team) took 2nd place.
Julie Dorfman (10) enjoys her second year being on the JV VHHS dance team. 
"[VHDT has] done really well in the winter season. Our team got second at Conference and we placed pretty well at some of the comps, and  it was really fun," Dorfman said.
Dorfman's fellow dance friend, Layla Schumacher (10), a member of the Varsity dance team, reminisces on this year's season.
"For varsity, our season was going really well. I was excited to go to State with a great team and the memories we made there were just amazing and I'm really proud of the season," Schumacher said. 
JV Icecat (VHHS and LHS joint hockey team) Wesley Engle (10) concludes his second year of high school hockey with supportive and helpful coaches as well as a strong team bond. 
"We've had an improvement since last season, we all have really good chemistry, we work well together, and we try to have as much fun as we can while winning," Engle said. 
The Icecats finished the 2022-2023 hockey season in 10th place.
Leo Schifrin (9) dives into his high school swimming career with a strong start. 
"[The swim and dive season] was a lot better than I expected. Working with my coach was some of the best work I've ever done," he said. 
Schifrin also participated in the boys' swimming tradition of bleaching their hair. 
"Well, it's a team tradition that's been done for a while and it's just a fun thing that's supposed to be stupid. It's not supposed to be perfect. It's more for team bonding and showing that it's not just about swimming," Schifrin mentioned.
The Varsity Relay Medley (Edward Zhao (11), Jacob Schifrin (12), Dan Berke (10), Will Rendall (10)) made it to State and finished 13th. 
Freshman JV cheerleader, Payton Sobacki gained skill, experience, and a great bond with her teammates over the 2022-2023 season. 
"We had some wins and some losses, but overall we grew so much as a team. In regards to our skill level, everyone on the team improved. So overall it was a very good season. We got first place at a competition and it was just an exciting experience," Sobacki said. 
To conclude the season, VHVC took home 1st place at CSL and 7th place at the IHSA State Finals.
Jonathan Thomas (9) enjoyed the JV fencing season and ended it on a positive note.
"The season was great. I met a lot of new people I hadn't met previously, a lot of old friends that I had done fencing with. In general, overall it was decently strong. I enjoyed it. A lot of wins, a lot of losses," Thomas said.
To wrap up the season, the boys' fencing team placed 7th at conference. 
Freshman basketball player, Jadelyn Winkler, ends the season with an improved set of skills and a close relationship with her team. 
"I definitely improved a lot…and I felt like we all bonded really well like I feel like this is the team that I've been the closest to compared to all my other teams…and I like that a lot," Winkler said. 
Along with these personal accomplishments, Winkler's team also had major improvements. 
"We don't have the most perfect record, but we did do well considering that we had so many people who have never played basketball before and even those new players improved tremendously since the start of the season and almost seemed as if they weren't brand new at the sport," she said. 
To top off these excellent improvements made on the Freshman team, the varsity girls' basketball team won the IHSA Regional competition.