Bowling 'Strikes' Success: Bowlers celebrate accomplishments as season concludes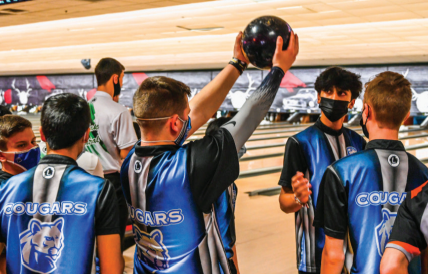 Cougar bowlers are on the prowl! As both the girls and boys bowling seasons come to an end, athletes are walking away with many achievements.
JV Boys
JV boys ended their season seeing improvement in their skills.
Joey Wascow (9) shared a routine that he developed throughout the season that allowed him to strengthen his abilities.
"I take notes in a little notebook so that when I go to bowl, I review the notes so I know where to stand and what to do," said Wascow.
Wascow also emphasized that the coaching staff has helped him grow immensely and overcome his nerves.
"One of the coaches told us that when we're getting ready to bowl, take a big deep breath, and that really helped out a lot," Wascow said.
Wascow said his experience on the JV bowling team has been an incredible opportunity to get involved, and he recommended anyone to join the team.
"I've made so many new friends, the community is just so great, and everyone is so supportive in bowling," said Wascow.
Varsity Boys
The varsity boys bowling team headed into the final stretch of their season with a 12-1 record.
According to Joseph Napierkowski (12), getting to this accomplishment took much more skill than many people believe.
"People think 'oh, just throw the ball straight at ten pins (which are) sixty feet away' but there's a lot more that goes into it… to make sure that when you hit the pins, they all fall," said Napierkowski.
Napierkowski highlighted that bowling is a mental game, and one of the biggest challenges as a team is keeping energy levels high during tournaments that last all day. Despite this, their bond allows them to stay focused and create an overall positive experience.
"I've made a lot of good friends through [bowling]… it's probably my favorite part about being on the team," Napierkowski said.
JV Girls
The JV girls bowling team closed their season feeling delighted with their accomplishments.
First year bowler Abby Bellson (11) has taken pride in her tremendous development throughout the season, scoring her personal best of 120 points at one of the team's most recent matches.
Throughout the season, she has also been challenged with a unique obstacle during practices.
"I'm a lefty, and everyone else is a righty except for one other person, so the coach always has to (mentally) switch up what direction she's giving me… sometimes it gets confusing," Bellson said.
Despite this, Bellson has had fun encouraging her teammates when she's subbed out and creating lasting connections with the other girls.
"All of us are really close in bowling and we always cheer each other on," said Bellson.
Varsity Girls
Varsity girls headed into the regional conference tournament with high energy.
According to Grace Funke (10), the girls were looking strong at the end of the season. At their previous Varsity tournament in Wauconda, they placed 3rd out of about 20 teams who competed.
"I want to make it to state. We've consistently got 3rd place at every tournament, so if we get that at conference, regionals, and sectionals, we'll move up," said Funke.
In order to perform well, Funke emphasized the importance of discipline at practices.
"It's a tedious process… you have to keep repeating [the steps] over and over again and remember how it feels," Funke said.
Although practices can get tough, Funke said she has had a great experience getting to improve her skills and spending time with her team, on and off the lanes.
As of press time, the team was preparing for the regional tournament and hoping to move forward to sectionals and state.