A cougar holiday: VHHS cooks up a storm
With the cold of winter returning, we are reminded of the importance of family during the holiday season. Oftentimes, food can be associated with cultural and religious importance, but also family traditions.
Food during the holidays serves as a catalyst for friends and family to gather and celebrate, and grow closer through the means of tasty treats. Sharing is caring, and allowing classmates to see what we enjoy during the holidays brings us closer as both a school and as a family.
Happy Holidays,
Addi and Ruhi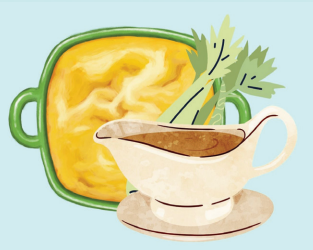 Cornbread Stuffing
Zoe Adams (10, she/her) looks forward to a specific food towards the end of year: cornbread stuffing.
The recipe originated with Adams' great grandmother, making it extra special. She keeps the tradition alive by going to her grandmother's in Ohio every year, where her family works together to make it.
As time has gone on, especially this past year, things have changed.
"Last year was a little bit different because we didn't go to my grandma's house because of COVID" Adams said.
Though Adams admits she's not much of a help in the kitchen, she loves eating the cornbread.
Adams said, "I feel like it's mostly my grandma and my dad, or just the people on my dad's family that make it, but it tastes really good."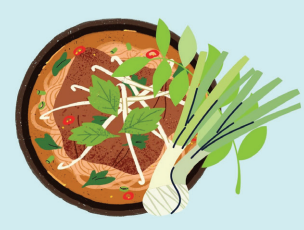 Pho
During the holiday time, Mia Starke (10, she/her) always travels to Florida. Coming from a Vietnamese family, she loves the flavorful food.
Starke's family makes traditional food like bánh xèo (crispy Vietnamese Crepes) and bánh bao (Vietnamese pork buns) during the Christmas season.
However, a specific food that always comes to Starke's mind during this time of year is pho.
"It's a noodle soup, which contains broad noodles, and chicken that is marinated for hours on end, with lots of aromatic stuff," Starke said.
With the delicious soup, Starke and her family spend quality time together, reflecting over the year.
"We all typically eat it together and we will talk about how we were doing in the last year and share how [it] affect us," Starke said.
Now, Starke's mother has learned the recipe, making pho not just a holiday season treat.
"It feels like more of a recipe that's not just associated with my extended family, but also my immediate family because then we can have it, connect over a bowl, and have fun together."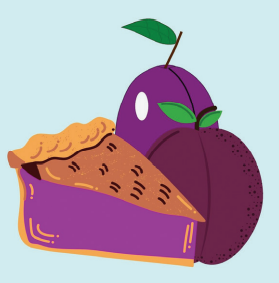 Plum Pie
Every year, Daniela Gomez-Anez (9, she/her) and her family come together to bake plum pie.
The plum pie is perfectly layered, with delicious flakey crust on the bottom, followed by flavourful plum marmalade, with another layer of crust on top. Though not overly sweet, the recipe manages to truly capture the juiciness of the fruit, while still maintaining the melt-in-your-mouth crust.
"My mom taught my sister and I how to make it at a young age," Gomez said.
Gomez confessed that while she herself isn't as much a chef as her mother, she still enjoys participating in the tradition.
Although the deep history of the recipe is unknown, her mother has been making it for many years since her early childhood.
"My mom isn't the type to follow a recipe, so [every year] she always changes it up," Gomez said, "She likes to add her little touch."
Pasteles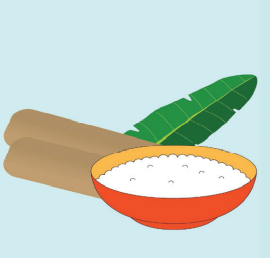 Every holiday season, Jaidyn Mays (11, he/him) and his family always devour his mom's homemade pasteles de masa.
According to Mays, pasteles are a labor-intensive food that requires hard work for the right outcome.
When his mother makes them, she first grinds down palantos, guineos, yuca, and calabaza before seasoning to create the masa. They are then filled with seasoned chicken that has been boiled. When put together, the pasteles are usually wrapped in a special paper and banana leaves. In his house, the dish is served hot, usually with a side of rice.
The recipe, which originated in the island of Puerto Rico, is significant to his family as they have been making it every holiday season since he and his siblings were little. Although he enjoys eating pasteles, he confesses that he's not much of a cook.
"I help with the wrapping process of the pasteles sometimes," Mays said.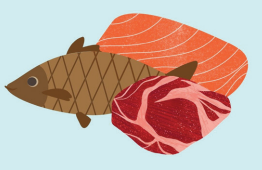 Fish and Steak
In Nicky Finato's (10, he/him) Italian family, they feast during the holiday time.
The traditions' origin comes from the Roman Catholic Church's 'Feast of the Seven Fish.' The belief was that the eve before a festivity, one should abstain from meat, therefore many practicing Catholics chose to dine on fish instead.
Finato's family dines on a variety of fish on Christmas Eve.
"It's usually a kind of seafood, like mussels, lobster, crab, or scallops. Sometimes we also make salmon or tuna, or something like that," Finato said.
However, Finato doesn't just feast on Christmas Eve— the next days dinner is just as exciting, with a thrilling addition: meat.
"My dad would usually make a huge tomahawk steak, which is massive," Finato said.
After the humongous Christmas dinner, Finato's family gets together, opens presents, and makes memories during the holiday season.
Gingerbread Men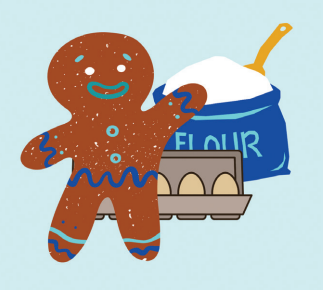 Olivia Graham (10, she/her) offers a delicious gingerbread recipe to the cougar community. With a perfect combination of cinnamon, sugar, and cloves, the holiday scent will linger in your kitchen throughout winter.
The family tradition of making gingerbread men started with Grahams' grandmother, Helen. As a Jewish family, her relatives wanted a holiday-neutral treat to help blend and contribute to the community when they weren't able to practice their religion openly. Graham said, "We still wanted to be a part of the community, but not necessarily express our Judaism because it could have caused my family a lot of social repercussions, because it wasn't socially acceptable to be Jewish at the time. So, this was our way to still be part of the community, but in a safe manner."
Throughout the years, this tradition has gotten bigger.
All my cousins, aunts and uncles, and my family practice in this tradition. So, it's just been a fun family moment during winter break, and we all get together and just make gingerbread cookies," Graham said.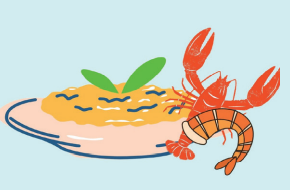 Linguini Di Frutti Di Mare
Kurt Erickson, a social studies teacher, and his family love partaking in the art of cooking, and when the holiday season rolls around, they look forward to having a feast.
The Feast of the Seven Fishes is an old tradition in which Italians abstain from eating meat on the eve of Christmas, opting to dine on a variety of fish and seafood instead. In an attempt to stick to tradition, the Erickson family will normally try to eat seven different types of fish or seafood.
"When I'm making it, I'll usually make something called linguine frutti di mare," Erickson said. "It's basically linguine with scallops, shrimp, calamari, muscles and lobster. It also has a tomato garlic broth."
From a young age, Erickson helped his mother around the kitchen. Yet, his last years in college sparked a true love in cooking. Through watching episodes from The Food Network, he started to teach himself the art.
"By watching those shows, I've picked a lot up, and I've gotten really good at it," Erickson said.
The tradition of the seven fishes is a significant part of the holidays for Erickson and his family, as it has been passed down from both his side of the family, as well as his wife's
From our families to yours: Read about the recipes from our households!
Ruhis' Oreo Balls
During the holiday season, I love to make Oreo balls, consisting of a delicious combination of Oreo cookies and cream cheese, I look forward to tasting these every year.
Though incredibly messy, my sister and I sit around our kitchen table rolling the mixture into balls, and
while some do end up on the plate, we don't forget to sneak in a few bites.
The impatience both of us go through when leaving the balls to set in the fridge is exhausting.
When they are ready, we dip them in a variety of toppings like chocolate, powdered sugar, and sprinkles.
However, while Oreo balls taste amazing, my favorite part of this dish is spending time with my sister and having fun during the holiday season
Addis' Blueberry Jello Dish
Every year, for Thanksgiving and Christmas, my mom makes a huge variety of dishes. Although I can say for certainty I enjoy all of my mother's seasonal cooking and baking, one of my personal favorites is her blueberry jello dessert.
In my family, we don't have a formal name for it, often just referring to it as "grandma's blueberry jello" or "that blueberry dish thing." Despite this, the tray that my mom makes this dish in becomes empty by the end of the night.
This is a relatively simple recipe, compared to everything else she makes. In simple terms, you dissolve jello and mix it with blueberry pie pudding and stick it in the fridge. Afterwards when set, you top it with a cream cheese spread and sprinkle walnuts on top.
While this recipe's origins are somewhat unknown, my mother has been making it for years. It was one of my grandma's favorite recipes, which also brings my family closer together every time she makes it.
In addition to all the other fun things my family does for the holiday, this definitely increases the holiday spirit.