Back to the future: Reflections of freshman year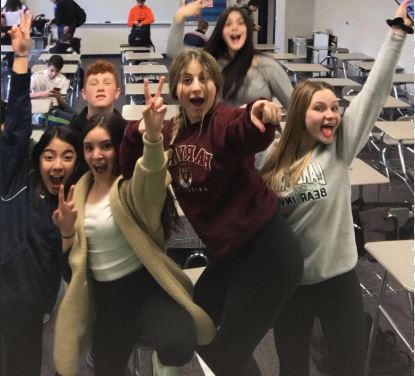 Students returned to in-person school for the 2021-2022 school year. After the COVID-19 pandemic affected many students and families in their learning environments last year, freshmen are adjusting to high school while wearing masks, sophomores are in the building for the first time, like freshmen, and juniors return for their third year, but second full year in the building after finishing their first year of high school asynchronously. However, current seniors at Vernon Hills High School are the only class who experienced a "normal" freshman year.
Max Brusso (12), Lexi Sarmiento (11), and Elizabeth Mun (10), recapped their freshman years. Brusso attended school without having to wear masks, social distance, nor attend online classes his freshman year. Sarmiento's freshman year was cut about two months short, which led to her finishing her classes with asynchronous work. Mun ended up completing her whole freshman year online.
Brady Duggan (9) described how his freshman year has recently been, following the restrictions of the pandemic.
Class of '22
Brusso reflected on his freshman year from three years ago – his last full year of school. In his sophomore year, he was cut short by roughly two months, and he stayed 100% remote his junior year.
"I don't think it's that weird for our class to be the only one's in the school who were in person without masks our freshman year, especially since the previous sophomores were here for like over three fourths of the year, and that doesn't make much of a difference," he said. "Most of the people that you're friends with in school you see outside of school anyways, so I don't think it's a big deal."
Brusso's senior class has been noticed as the only grade that wasn't affected by the pandemic during their freshman year. He expressed how this didn't really bother him, as he defined it to not be a big deal. From Brusso's perspective, he summarized that students in other classes were impacted more than he was during his freshman year.
"My brother's a sophomore. As it was his first year of being in school, I had to show him around as a sophomore, which was interesting. But he just talks about how it's completely different now compared to his freshman year. They aren't as prepared because they haven't been in social situations as much, but yeah, it's a lot different for them than for us for sure," Brusso said.
Class of '23
Junior Lexi Sarmiento, who decided to stay 100% remote during her sophomore year, outlined how the cut off of her freshman year hadn't negatively affected her, especially since she was a part of activities that took place before the school closed.
"I was in volleyball and then I did Student Council. And, I mean, nothing really changed for me, except for the people who participated in spring activities," Sarmiento said.
It is evident how the restrictions from the COVID-19 pandemic promptly changed and impacted Sarmiento's freshman year as sports, clubs, and other school events had been shut down, following the school's closing during the second semester of her first year at high school.
Sarmiento described some benefits from her freshman year.
"It was easier freshman year than sophomore year because teachers didn't really know much of what to do, so they kind of just gave us busy work," she said.
Class of '24
Elizabeth Mun, a current sophomore, defined her first year in-person at the high school to be a lot more suitable for her social and learning style, compared to her online school experience as a freshman.
"One reason I like being back in person is because I get to see other people walking to different classes. I would rather be in school and wear a mask because it's less on the computer and more interactive," Mun said.
Rather than having the freedom to stay home from school her freshman year, attending in-person school was beneficial for Mun since she enjoyed personal interactions way more than completing tasks online, despite having to wear a mask.
Mun stated the difficulties she faced with online school.
"I feel like going online was a little harder just because it's a bit mentally hard on you, because we're looking at the screen all day, and the classes were like on a block schedule, so they were like an hour or so long," she said.
Since this is the first year sophomores have physically been in the building, some upperclassmen consider sophomores to be freshmen, which has been well-known by sophomores, including Mun, throughout the school.
"I don't really have a problem with it," Mun said.
Class of '25
In the beginning of the 2021-2022 school year, current freshman Brady Duggan (9) reflected on his transition from middle school to high school. Duggan's workload with school and clubs hasn't been too hard on him so far this year.
"Being in high school so far has been pretty good. I met a lot of new people and joined the ping pong club. Also, I barely have that much homework," Duggan said.
With the requirement of having to wear masks to school, it is observant how the class of '25 start their first year of high school with masks on. Duggan hasn't minded the start of his first year of highschool as he feels it doesn't affect his learning.
"I don't care about having to wear masks to school since I don't really notice it, and they don't really affect my learning or participation in other activities,"
he said.