Snowfall brings winter fun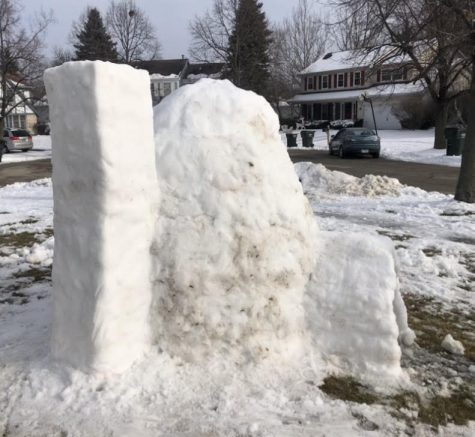 As snowflakes float down from the sky and pile up all over the ground, the spirit of winter can be felt in our chilly Midwestern hearts. When the snow gets heavy, it's easy for most people to completely go into "hibernation mode." However, some love to gear up and embrace the freezing temperatures with friends by their side.  
Outdoor activities are an important aspect of the winter experience. Sledding, in particular, seems to be the most common of these activities among students.
In a TSP survey, of 43 students, 81% said they went sledding at least once this year.
Eric Hernandez (11) goes sledding every week with his friends. Whenever they finish their homework, they drive out to the Century Park snow hill and meet up to have fun. 
"Usually, it just feels really good where I can just forget about everything when I'm going down and just try and have as much fun as possible," Hernandez said. 
With various snowstorms and single-digit temperatures, the weather has been ideal for sledding. Morgan Udvance (10) loves to craft her own paths down the hills. 
"My local park has a small hill that neighbors and I sled on, and it has way less grassy patches than usual," Udvance said. "Extra snow also provides some building materials for ramps and blockades, which are fun to run over if you've got a sturdy sled."
The abundance of snow has also made another activity popular among VHHS students: snowboarding. According to the survey, 26% of students participated in snowboarding at least once this year. 
Elizabeth Mun (9) picked up snowboarding for the first time this year with the encouragement of some experienced friends. 
"I definitely want to try this activity again … Once I started going, I flew down keeping my balance for as long as possible. It was an amazing experience," Mun said. 
After learning how to snowboard from scratch, Mun offered some tips on how other newbies can step out of their comfort zone to take up the hobby. 
"It might seem a long way down, but give it a try. Ask a friend if you need help strapping your boots in or standing up on the board. Just enjoy yourself and have fun," said Mun. 
Similar to Mun, Udvance loves a variety of winter activities along with sledding. She has a few years of skiing experience under her belt, she's tried snowboarding once, and enjoys building snow structures—even her own igloo.
With the experience she has, Udvance makes a point that skiing should be practiced frequently. She described her experience getting back at it after a long rest period. 
"I went to Colorado to ski for the first time in quite a while… I had to take a ski lesson for a couple of hours, and got some basics down. I eventually got to ski on the big mountains of Keystone," Udvance said. 
Udvance has become a pretty avid recreational skier over the years. Nevertheless, she finds a lot of fun in more recreational activities like building snow forts.
"Every year, I make a snow fort in my front yard out of as big of a mound of snow as I can make. I also really enjoy seeing other people [and animals] marvel at my creations," Udvance said. 
One would think that due to COVID-19, opportunities for these activities are unsafe if not limited. On the contrary, sledding, skiing and snowboarding have been named "low-risk ways to move more" by the Mayo Clinic as long as people social distance and wear masks while participating in them. 
"If I want to go down a… hill later at night, there won't be as many people due to COVID-19, but also people will know to spread out a little bit more which makes it safer because people aren't bumping into each other as much," Hernandez said. 
Through these COVID-19 safe activities, students like Hernandez can get a sense of normalcy while seeing their friends in person. Hills as close as Century Park or as far as Wilmot Mountain are open for various activities like these. Hernandez, Udvance, and Mun all recommend going out with friends to one of these hills and just having a blast. 
"Some of my friends' parents don't want them going inside people's houses, so being outside provides plenty of space to move around, have fun, or just talk,"  Udvance said. "While the cold may limit time spent with friends and family, it sure beats only talking electronically."