How to decorate your dorm room on a budget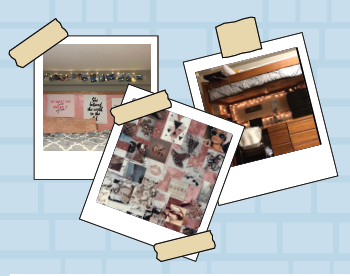 For Seniors, college is just around the corner. This is not only one more step into adulthood for some, but for many this change consists of packing up life and moving into an averagely small 12 by 11 feet space. Now, this space may seem intimidating, as students worry how they will transform this bland room into their new home. However, there are many tips and tricks students can use to ensure their dorm feels as comfortable and as homey as possible. Students may also feel like they can not achieve a cozy space without costing an arm and a leg, but it is vital to recognize the immense cost of tuition and important to implement budget friendly design ideas that don't cost a fortune to furnish.
Tip #1: Resourceful Revamping
When it comes to adding personal style into your dorm room, you may feel like you can't create a space using items you may already have lying around your house, but actually, being resourceful will be your best friend in creating a budget-conscious design.
One way to revamp something you already have is by using it in a new and improved way. Let's say you have an old wooden or metal basket, just turn it over and use it for more seating or even a side table.
Now, I know you may be thinking that you don't have anything you can turn into a new and improved piece of furniture, which is why you can revamp other people's things too.
Over the past few years, thrifting has grown bigger and bigger, and more people are using thrifting as not only an activity, but a creative outlet. So,drive over to your nearest thrift store and see what cool finds you can find to furnish your future abode.
Lastly, I'd recommend browsing different resell websites like Ebay, Craigslist, or even Facebook Marketplace to see what others may be selling for low prices.
Also many times, sophomores, juniors, or even seniors at your college might be looking to sell some of their dorm room items for cheap, as they move into an apartment and out of dormitory style housing.
Tip #2: Do-it-yourself Projects
You may feel like you are not artistically gifted, and can't create elaborate projects that would actually be acceptable to put in your dorm room.
But in fact, it doesn't take an art degree to create DIY projects that are both meaningful and look good.
Another thing to note is that DIY projects lead themselves to personalization, so feel free to add your own preference into your projects whether it being a specific color palette, pattern you love, or images of you, your friends, or your family.
Senior Kelsey Gramins explained how not only designing her dorm room is a passion project, but between her pinterest board and other inspiration, she is excited to express her creativity through design, and see how her room will come together through diy projects.
One way to use DIY's in your dorm room is through collages. Over the last few months, collaging has become a major trend because collages not only add a stylized element to any room, but they are personalized and each one is unique.
Senior Sari Gluck, has hopped on the DIY collage trend, and started an Instagram collage account where she sells custom collages for her friends' college dorm rooms.
"Personally I have been making a ton of collages, which is a cool thing to add to your room because you can add your own spunk, taste, and personality," Gluck said.
Another tip Gluck shared is the importance of filling your walls in your dorm. "Even if it's just hanging over your bed
and using command hooks, you can print out a picture online of something you like, for example the Chanel logo, and get an 8×10 frame and stick it in there for an easy and quick DIY."
Tip #3: Utilize What You Are Given
One of the first things you might want to consider on move in day is rearranging your furniture.
Different rooms have different layouts of the dresser, bed, and desk, and it is important to recognize if whether or not you can move your furniture to allow for more floor space or light.
Another way to open up space is to consider changing your bed height. Many colleges offer the option to raise your bed to fit your dresser underneath, and some may even offer to loft your bed in order to fit your desk underneath.
Lofting your bed also gives the illusion of almost a two story room, which allows for a ton more floor space.
"Make sure you are getting things that are space efficient, where you can use something to store other things, because you are given a very limited amount of space and it is important to use as much as you can," Gramins said.
Tip #4: Comfort is Key
As nice as decor is in your dorm room, at the end of the day, you want to create a comfortable and relaxing environment.
One idea is to try using different elements to style your bed. Whether it is throw pillows, throw blankets, or a duvet.
Senior Lexi Rootberg commented on the importance of comfort in a room.
"Comfort provides functionality, and if you have a dorm room that you are not comfortable in, it is going to be really hard to sleep, study, and maximize the use of your space," Rootberg said.
Another trick to be more comfortable is to bring a mattress topper. Most college dorm beds have a singular thin mattress pad, so bringing a topper will help you find your ideal level of comfort.