COVID-19 impacts local businesses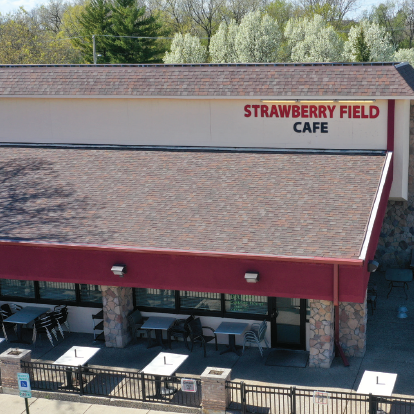 COVID-19 and the stay-at-home order issued by Governor J.B. Pritzker, which started on March 25, has impacted the business at local Vernon Hills-area restaurants and shops. Most restaurants and businesses, if able, are enabling curbside delivery or online orders with platforms like Doordash and Grubhub.
Gus Romas, one of the owners of Strawberry Field Pancakes and Cafe, a local breakfast and lunch joint in Lincolnshire, said his restaurant is still open for carry out and deliveries, and that people can support local businesses by continuing to order from them during this time.
"We're a restaurant, so we were some of the first ones to close," Romas said.
Governor Pritzker ordered the closure of all restaurants and bars over a month ago on March 16.
"We had to lay off most of our staff," Romas said.
Strawberry Field is trying to keep as many workers as they can employed by working with carryout orders. Romas added that if his workers are unemployed or need food, they can always come by for food free of charge.
Eleni Roumeliotis (11), a student at VHHS, is one of the many employees at the Lincolnshire cafe who is now out of work; Strawberry Field is also her family's business.
"I really don't have anything to do now, and I don't have a source of income anymore," she said. Roumeliotis also said she found herself to be more productive in her life while working, as working gave her a consistent schedule.
She said Strawberry Field currently has only one working waitress and one cook.
Similarly, local bookseller Barbara's Bookstore in Hawthorn Mall has also been forced to layoff employees due to the closure of in-store orders.
"We have a drastically reduced staff," bookstore manager Georgette Coan said.
"The doors are closed to the public, but we're still working in the store."
Barabara's Bookstore still accepts online orders and offers curbside pickup for books.
On March 25, Congress passed the Coronavirus Aid, Relief and Economic Security Act (CARES) and it was signed by President Trump. According to the U.S. Small Business Administration (SBA), the CARES Act included $376 billion allotted to help small businesses all over the country. A significant portion of the money has gone to fund the Paycheck Protection Program (PPP), a forgivable loan program that incentivizes small businesses to keep their workers on the payroll.
The PPP quickly ran out of money. On April 16, the SBA said that it is "unable to accept applications…based on the available appropriations funding."
However, a new COVID-19 aid package signed by the president on April 24, a week after the PPP funding dried up, included a $320 billion addition to the PPP. The SBA resumed accepting PPP applications on Monday, April 27.
"We were promised a bunch of [government] programs. Nothing has come through yet, but we know we applied for the programs," Romas said. "I hope the programs that we apply for come through, and that's what we're waiting for," he said. "That would be a big help to getting people back to work."