Unconventional paths
Students pursue unique goals following high school
It's an emotional farewell to all our talented seniors. As the school year is descending into its final weeks, many of them are preparing to venture down new and exciting opportunities. A few of these ambitious and gifted seniors are embracing their unique interests and turning them into promising careers.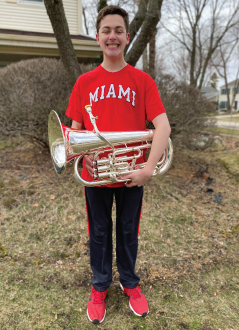 Benjamin Liber
Benjamin Liber (12) plans on studying euphonium performance and mathematics at Miami University in Ohio. A euphonium is a brass instrument, similar to a tuba but smaller. Although Liber's main focus is to eventually obtain a career in math, he still wants to continue studying music.
During the college application process, Liber had to audition for a place in the band since the number of spots is limited. At some schools, he had to apply to math and music separately, essentially applying twice to the same college.
Liber's music teachers throughout middle school and high school have inspired him to continue music, but because euphonium performance is not among popular majors, he faced hardships in determining whether or not it was the right path for him.
"It's hard because euphonium performance isn't that big of a major. Only the best of the best get anywhere with it. I'm not number one or anything, so it's like, should I do it or should I find something better?" Liber said.
Liber expressed his excitement in making new friends and finding people who share the same interests as him in college. He looks forward to not only expanding socially, but creatively and musically as well.
He encouraged others to have the same mindset.
"Do what you want to do. If you're dedicated enough and you know you want to do it and you know you'll be happy with it, don't let others stop you," Liber said.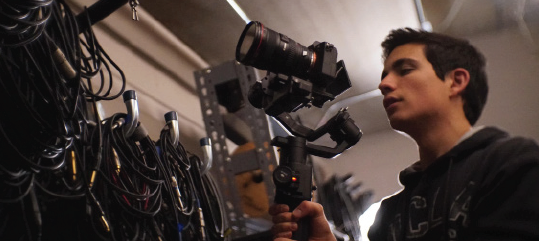 Sebastian Domenech
Sebastian Domenech (12) plans on attending Loyola Marymount University to pursue a career in the film industry. He's looking forward to the freedom of working with a range of people along with having more time to focus on his career.
One of his first projects was creating a short video to highlight the boy's swim season. Though he recalls that it was "a mess," the production of the video ignited his passion for creating films.
"Every year after that, I kept doing it. I've never been a good writer or speaker, for that matter, so I enjoyed being able to find a way to communicate with people that was different and functioned for me," Domenech said.
Domenech is also a member of the media club, which has given him and other students an opportunity to bond over their shared interest in film.
Because of his unique career choice, the college application process was slightly different for him. In addition to the normal college application, he also had to submit a short film he created to showcase his skills as a filmmaker.
One of the biggest concerns Domenech faced was convincing people that a career in the film industry is completely viable.
"There are actually a lot of ways to make money and survive off of film. It's not necessarily a death sentence," Domenech said.
There is a stigma surrounding students who want to pursue a career in the arts.
Some have preconceived notions that people who choose to seek arts will end up "poor and jobless."
"It is probably more conventional than it seems at first. The more time you spend on it, the more you'll realize that there's always a solution and there's always an answer even though it's not as obvious going into the more difficult paths," Domenech said.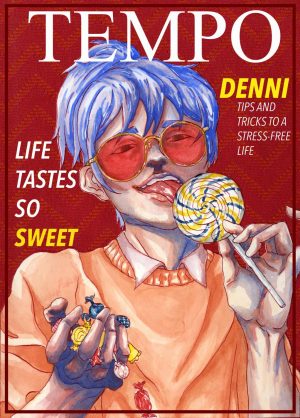 Leah Hayden
For Leah Hayden (12), illustration has always been a passion. She has committed to the Milwaukee Institute of Art and Design, and though she is still unsure on exactly what her plans are career wise, she is confident in pursuing something related to illustrations or game design.
Prior to starting high school, Hayden's focus wasn't necessarily art, but the classes offered at VHHS gave her many opportunities and tools to expand and solidify her passion for art.
It's helped her determine that art is something she would rather invest her time in as opposed to a career in the STEM field.
"I feel like [art] is a really good way of expressing things that maybe you can't say in words. I like it as a storytelling vehicle," Hayden said.
The term "starving artists" is used quite frequently to describe those who plan on pursuing art and has affected Hayden's confidence in pursuit of an art career.
"I hear things like, 'Oh, you'll never get a job,' and I feel like sometimes that rubs off on you. It is pretty uncertain if you think about it," Hayden said.
But today's digital era has brightened Hayden's outlook. There is a new demand for digital designers and artists that brings opportunities and security to those unsure of undertaking art.
The digital era has also given Hayden a lot of inspiration, stemming from video games such as The Legend of Zelda and Xenoblade Chronicles.
"I love the character and environmental designs. Some of them have storylines, and I kind of fell in love with the idea of putting art and narrative together," Hayden said.
She is thrilled to be attending an art college, and is looking forward to the fresh, new experience that it will bring.
"Don't be put down by other's opinions of your opportunities," said Hayden. "Do what you want to. It's your path that you choose in the end, so do what will make you the happiest."