Students learn important lessons during stay-at-home order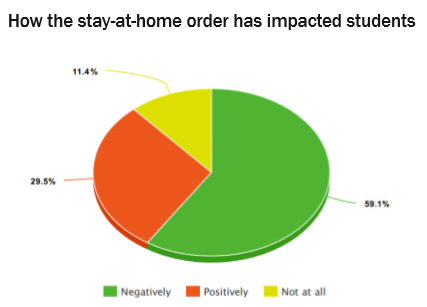 It is undoubtedly hard to take the positives out of such a negative situation like the coronavirus pandemic. With the Illinois issued stay-at-home order extended through May, non-essential workers and students have taken up a full work day in the confines of their home. With daily family walks around the block and trips to the grACocery store being the main form of the outside world for most, this can come as a shock.
Although it is hard to avoid human interactions and stray away from what is seen as "normal life," it is our responsibility to stop the spread of COVID-19 by staying home and doing our best to support those who need it during this hard time.
But, that doesn't mean it hasn't come with its challenges for those who are under the stay-at-home order. Everyone has faced their own issues with the struggle of staying home. But, this time can also be useful for people to reflect on what brings them joy outside of their home, what relationships are stronger than others, and what is AC Spending most of the time at home has increased time spent with family members. With what seems to be endless family walks around the neighborhood and more time than ever with parents working from home and siblings doing e-learning, relationships can easily be tested positively and negatively.
In regular everyday life, people can get so busy that they forget to check up on their loved ones or just simply spend time with them. This stay-at-home order has been able to reinstate the importance of family and the time well-spent with them.
"I'm able to catch up with family that I don't usually talk to that are in my home…I'm so grateful to be in a big family that I can constantly be doing something with," Owen Ray (10) said.
Constantly being surrounded by people at school, at work, and at social events time alone can be seen as unimportant. For those who often never spend much time alone, this stay-at-home order might make them realize that they aren't as comfortable with themselves. But, as social interaction is limited, people have so much more time to learn to love their own company — to enjoy the time alone, when their only responsibility is to focus on themselves.
"This is definitely a time for self-realization for students…you can really take this time to learn what skills you have and what skills need to be worked on," Doug Dusthimer, a VHHS social worker, said.
Along with self-realization during all of this alone time also comes with the awareness of one's surroundings and their importance to them. Since school is usually associated with stress, it can be hard for students to see school's importance as a solid study space. With all school work now being done at home, students can see the importance of having school as not only a social outlet, but a scheduled routine to get work done.
In a survey of 90 VHHS students, 87.7% said they have become more grateful for their time spent physically in school. When asked what they missed most about school, answers ranged from teachers' in-person lecture, the ability to see friends every day, or after school clubs or activities; everyone is missing something during this time away.
Since everyone is required to stay home, it can be hard to imagine what is going to happen when the order is lifted. With life resuming and everyone going back to their in-person jobs and eventually school in the fall, the feelings of isolation will disappear, since we will be able to go out freely.
So for now, what many students have learned from this pandemic is to enjoy the small things. From going to the grocery store to family game night, students find the importance of appreciating lessons taught from the stay-at-home order. Students should look at this time as not a stop in their lives, but instead a moment to reflect on what will be important to them when the stay-at-home order is eventually lifted.
"I don't think my life will be much different when the quarantine is over, but instead, my outlook will be," Claudia Bilkey (11) said.