Freshmen get their starts on varsity
Jacob Schifrin
Jacob Schifrin (9) is an important element to the boys varsity swim team. According to the varsity swim coach, Jim Pardun, Schifrin filled a huge void that they had from last year.
"He is the fastest breastroker on our varsity squad right now. It was a blessing in disguise to have him, as a freshman, come in with so much experience," Pardun stated.
Schifrin has been swimming since he was six years old. His parents signed him up for lessons, and swimming became a fun hobby for him to do on the side. Once he realized he had potential, he decided to start getting serious.
Prior to the high school team, Schifrin swam with the club Cats Aquatics. He now only participates in swimming for the high school team and loves the friends and memories that he has with his team.
"It's actually a really cool experience. Everybody took me in as if I was one of them. It has been really fun for me," Schifrin said.
Other than Schifrin's speed in the pool, he brings a lot to the team as a person. According to Pardun, he is quiet by nature, but is a great leader. He knows his way around the weight room and has a lot of prior experience in helping out his teammates.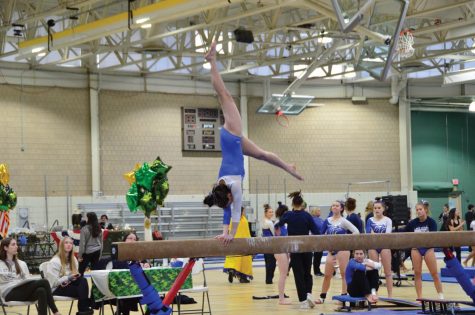 Becca Tran
Becca Tran (9) has had a long journey with gymnastics. She has been dedicated to the sport for 12 years and decided to try out for the high school team her freshman year.
She landed a spot on varsity and has helped the team by scoring high, according to Denise Caton, the head coach of the gymnastics team.
"Having the experience as a high-level gymnast prior to joining the team has really helped Becca bring big scores for our team," stated Caton.
Tran still balances participating in club gymnastics with the high school team and feels very good with where she is at in her athletic career.
As she started her first week on the team, she felt a lot less pressure compared to the competitive level in club. The environment was more laid back and easygoing, according to Tran.
"The first few days on the team, I was a little nervous to meet the new girls. But, after I got to know everyone, it was a lot better for me, and I had a lot of fun with all of them," Tran said.
Tran's teammates feel the positive energy that Tran brings into the room, and according to Caton, she is a great addition to their team.
"Becca has a great work ethic and is always wanting to improve. She is a go-getter and loves to work hard, which helps our team a lot," said Caton.
Tran's best event is vault, and she throws a huge vault that scores her really high. She performs a Yurchenko, which is a very difficult vault for a gymnast at this level.
Tran is excited to see where her gymnastics career will take her and is considering doing gymnastics for a club when she enters her college years.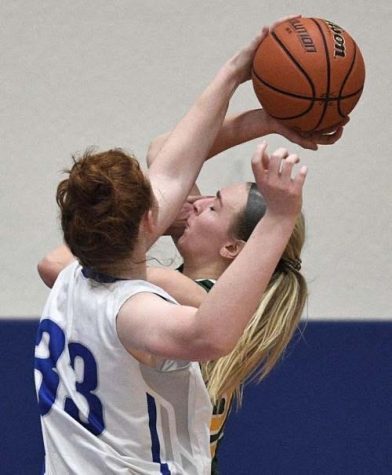 Grace Koepke
Grace Koepke (9) is a player to look out for on the girls varsity basketball team. As a freshman, Koepke already landed herself a position as a varsity starter.
Grace Koepke (9) is a player to look out for on the girls varsity basketball team. As a freshman, Koepke already landed herself a position as a varsity starter. Koepke has had many ups and downs with this sport, starting at the age of eight years old. She started with park district basketball until she was in sixth grade and then advanced to a higher level team.
"It's been good. It has been hard at times, but overall really worth it and a lot of fun," stated Koepke.
In Koepke's experience entering high school basketball, she has made an adjustment to the new environment. The varsity starter has made a lot of new friends and felt welcomed to the team as a freshman by all of her teammates.
Paul Brettner, the girls basketball coach, is proud of the skill level and teamwork that Grace has brought to the team.
Brettner stated, "She has grown quite a bit over the course of the year. A freshman on varsity leaves a lot of room to improve, and she has really developed into a post-scorer for us."
Koepke is one of the better rebounders, and her height has really helped the team, according to Brettner. She is a big scorer and helps out a lot with their wins.
Looking in Koepke's future, she plans to hopefully play in the collegiate level for Division One women's basketball.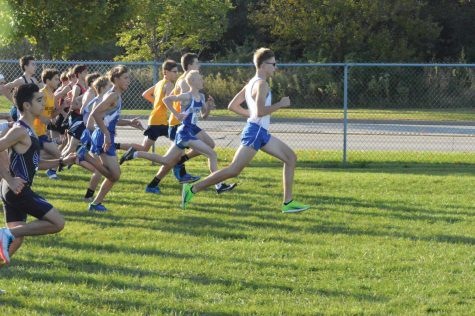 David Rzepa
David Rzepa (9) is a great addition to the varsity cross country team. His speed and good pace help him contribute to the team's successes.
According to Jason Rush, the head cross country coach, David was not immediately put on the varsity team.
"He didn't run varsity till the end of the season. He is a freshman, and I wanted him to get used to the environment before throwing him in a varsity race," Rush said.
As the season went on, Rzepa proved himself to be one of the top seven runners, securing himself a spot on the varsity team.
In the beginning of his career, Rzepa started running for the middle school cross country team. His mom convinced him to join and pushed him to try something new. Little did he know that push would be the reason he is where he is today.
During the long season, Rzepa had made many memories and friends with the people that were on his team.
"They made me feel really comfortable. Right when I joined the team, everyone was really nice to me, and I had a lot of fun," Rzepa said.
According to Rush, Rzepa is a mature young man and has a lot of potential for his upcoming years on the varsity level.