VHHS introduces T-shirt vending machine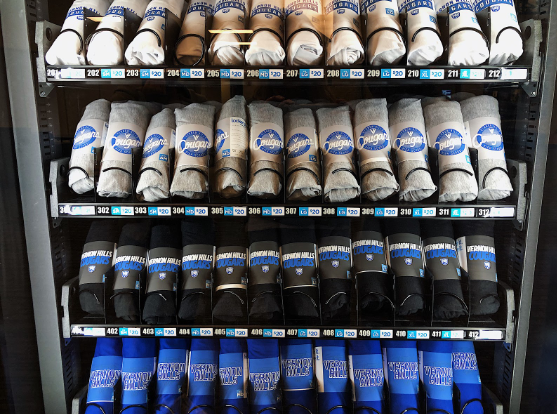 At the beginning of this school year, Dr. Deborah Beagle, student activities director, initiated the idea for a t-shirt vending machine at our school. 
The purpose of the machine is to make buying cougar apparel more accessible to students. In previous years, the Cougar parent connection group would sell apparel during lunch periods on Friday, but the machine replaces this. 
"At some point, they'll look at how many shirts have sold, and then help and make that donation back to the parent group," Beagle said. 
The 'teerito' machine has raised questions among VHHS students. One of the main concerns students have with the vending machine is the cost the school may have potentially spent on it. 
"I want to hear the reasoning behind it because it just doesn't make sense," Jacob Zimmerman (12) said. "Why do we need a T shirt vending machine, we have construction going on. And that's a pretty high [tech] vending machine."
However, Beagle explained that the vending machine does not cost VHHS any money. 
"Right now it's kind of in a pilot status. The company we're working with has agreed that they're taking the risk," Beagle said. "We haven't paid for it at all. It's their machine. And they're coming in here and providing the service." 
Beagle first thought of the idea while she was at her son's basketball tournament and saw a vending machine that included t-shirts on the bottom row. She then contacted a vendor VHHS works with, The Locker Shop.
According to Beagle, the vendor used a regular vending machine and built the refrigeration system out of it. They then programmed it to drop t-shirts instead of food. 
Another concern students have is the price of the individual shirts. 
"For me it's kind of pricey for a kid [especially] as a freshman because we don't work. But as we go through the years, I think we'll be able to afford it," Jose Zavaleta (9) said. 
Aside from the price, some VHHS students find the t-shirt vending machine very convenient. 
"I think it's a good idea… You can buy spirit-wear quickly," Rahil Sheth said (9).