Anthony Berktold manages to win hearts of Cougars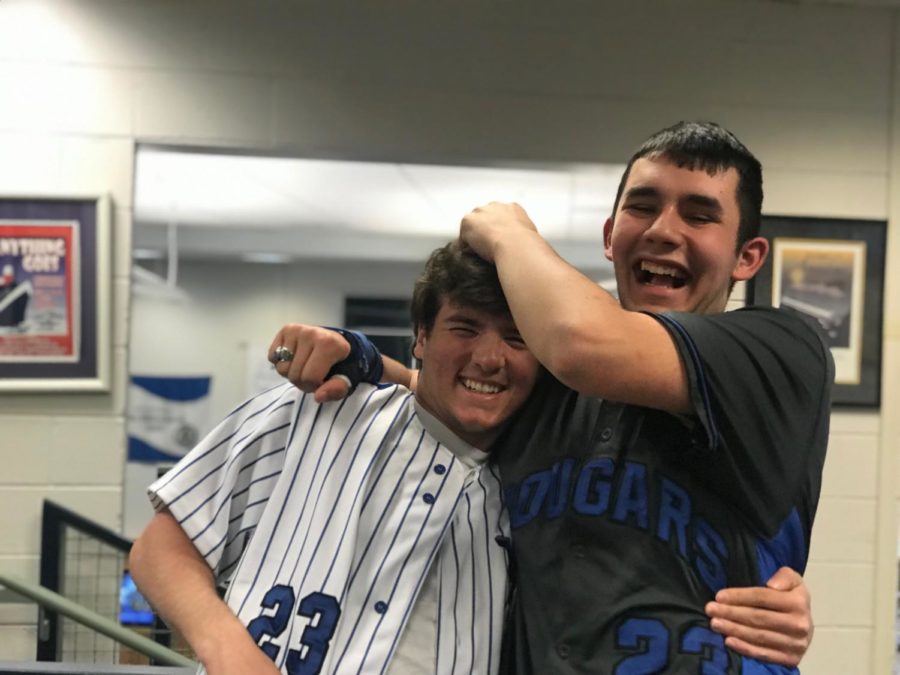 For the past four years, his presence has been known in the hallways by every student that walks past him. Big hugs and priceless interactions fill the school with liveliness and enthusiasm. His name is Anthony Berktold (12), the heart and joy of Vernon Hills sports.
Berktold has been the manager of a couple different teams, such as the baseball, basketball, football, and wrestling teams. Berktold has only managed two teams for all four of his high school years which are football and baseball.
Brett Sweeney (12) was co-manager of the football team with Berktold for three years. He said that Berktold was very involved with the players and coaches during practices and games.
"He would always try getting to the coaches to tell them what plays to call, and he was always trying to help the team by talking to the players," Sweeney said.
It could be seen from the bleachers that Berktold's energy was important and crucial to the team. Before every game, he would run across the field holding the large, black flag with the letters "VH" on it, and wave it around like it was the last game of the season.
Quinn Geren (12) has been on the football team for all four years of high school. He shared every practice and game with Berktold on the sidelines.
"He's always brought good energy during the games, always helped out during practices whenever we needed him, and he's always been the first one to step up if something needed to be done," Geren said.
This fall, Berktold entered his final season as manager. For all of his hard work and dedication, the team felt it was necessary to pay him back. Berktold had never played in a game under the Friday night lights. That would all change when Berktold put on a varsity jersey and took the field.
Number 7 stepped onto the turf, ready to return the ball off the kickoff. The ball was kicked, and Berktold caught it and ran down the field. His teammates blocked for him, making sure that nobody would tackle him as he ran it back for the first touchdown of the game.
"I saw a recording. I was out for surgery, but I had never seen that excitement, even when we won to go to the state championship," Head Coach Bill Bellecomo said.
Berktold scored his first ever touchdown. One would think that doing so would result in great joy and happiness for himself, but instead, Berktold dedicated that touchdown to somebody else.
Coach Bellecomo had heart valve replacement surgery, which kept him out for two months of the season. Berktold dedicated his touchdown to his recovering head coach.
"I told Como that night that touchdown was straight up for you. It wasn't for me. You were a trooper this year," Berktold said.
Those words touched Bellecomo because it brought him happiness in a time of pain.
"I was going through a tough time, and it brought tears to my eyes that he thought of me in his happiest moment in high school," Bellecomo said.
Two of Berktold's baseball coaches , Mr. Rob Fischer and Mr. Patrick Walters, both described Berktold as the "life of the party." They said he hypes up the dugout and pushes everyone on the team to try as hard as they can. Walters described Berktold as the "face of Vernon Hills High School."
Berktold's relationship with his players is powerful, and the feeling is mutual from the players. They respond back with positivity and love, and they treat him like a member of the team.
Jake Pieper (9) has a special relationship with Berktold. They call each other after every baseball game to discuss all aspects of the game such as the score, how the team played and specific moments in the game.
"[Our relationship] is pretty strong. Me and him text or call all the time about the scores of our games and how I was doing," Pieper said.
Pieper can also attest to the influence Berktold has on the effort levels among the players.
"He actually gets us to work," he said, " he always tries to push us to the hardest we can and if he sees that we aren't working, he'll get on us like the coaches would."
Berktold is positive, carin, and passionate about more than just his sports teams. In the classroom, Berktold is the same fun, happy and hardworking person.
Mr. Wilson, who also goes by "Profe," is Berktold's Spanish teacher.
"If I had to use one word to describe it [having Berktold in class], I think it would be fun," Profe said. "There has never been a day that I can remember that Anthony came into class in a bad mood or with a frown on his face."
Berktold has this common ability to spread his positivity to everybody around him.
"I think that just about everybody [in the class] responds positively to Anthony's positive demeanor," Profe said.
Berktold is also a hard worker in the classroom just like he is on the field.
"Anthony is certainly a leader. He always wants to do well for himself, but also if it's group work or he sees someone is struggling, he likes to be the first to help them," Profe said.
There is a common trend to what Berktold brings to everything he does. He brings light to everybody's day and makes Vernon Hills High School a better place.
Berktold will be attending a transitional program next year, but he will always have a spot on Vernon Hills High School sports teams.
"As long as I'm the coach, he has a lifetime contract to be a part of our program," Bellecomo said.