VHHS talks trash: Students investigate waste management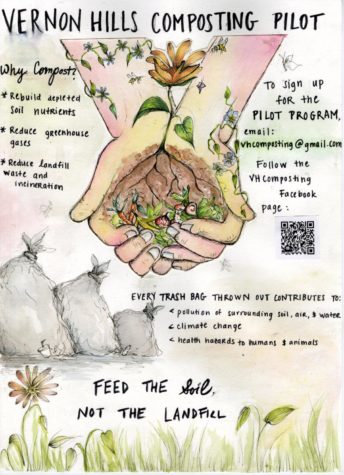 Throughout the school, 92 60-gallon trash bags are filled and every can is emptied at least once a day, according to Buildings and Grounds.  With an increasing amount of students attending VHHS, the waste output is also likely to increase.
In AP Environmental Science (APES) classes, groups of students took one bag of trash from the cafeteria and organized it based on the waste, sorting it into groups based on whether it could be recycled, composted or put in a landfill.
APES students found that more than 220 pounds of trash are bagged in the cafeteria in just one day, and an estimated 69% of this trash could have either been composted or recycled.
Jordan Jones (12) was shocked by this, and is taking steps of his own to reduce waste production.
"Most things that are recyclable that I throw away I put into the recycling bin. I also have a reusable water bottle that I use instead of just using plastic water bottles," Jones said.
Students such as Jones are taking initiative to work on creating less waste, and are also resorting to recycling instead of simply disposing.
Sneha Akurati, a senior who has an interest for environmental advocacy, decided that she wanted to make a change. She revived the school's VH2O club, and even helped in starting a composting initiative in Vernon Hills.
"The goal is for residents of Vernon Hills to put their food waste in a bin on a certain day of the week, and a truck will come and pick up the bin and take it to a composting facility" Akurati said.
Akurati also suggested ways for students to start reducing their own waste production.
Her suggestions include bringing reusable water bottles and Tupperware for lunch, using reusable grocery bags and using shampoo bars instead of containers.
In spite of this, however, the numbers still show that VHHS is producing an unsustainable amount of waste.
"I definitely think we're outside of our ecological footprint," Ms. Clarke, an APES teacher, said. "I would say the school as a whole could always do better to improve our recycling, [and] composting potentially in the future."
An ecological footprint is the measure of the impact that people are having on the environment for a given area. It is calculated based on average living conditions and waste management among other statistics.
A large contributor to VHHS's waste output, and subsequently it's ecological footprint, is the cafeteria.
Akurati noted that VH2O is currently focusing on sustainable lunch practices. She also pointed out how the cafeteria still provides Styrofoam plates and plastic cutlery, and these are a large source of waste that they're trying to combat.
Another issue that teachers have noticed is the improper placement of certain items in the recycling bins.
"I don't think anybody's doing it maliciously, I think that we just need to be better educated on what can go into certain disposals," Ms. Clarke said.
Dr. Young, a facilitator the recycling program, believes that the biggest issue with recycling is having non-recyclable items put into the bins.
Some teachers have started to take initiative. Placing a small sign above recycling bins stating what is acceptable for the bins has helped.
"One of the things that Mr. Green did is have this little cardboard sign that says exactly what can't go in, and his is the one that bin that every time what shouldn't be in there is no longer in there," Young added.
Young is optimistic about being able to improve and add to the recycling culture at VHHS.
"I would say the first step for kids that are interested in this topic would be to find a space to come together, and then invite [adults] into that space — anyone that could then hear them out and their ideas and what they envision," Young said.