Students represent VHHS at All-State Music Festival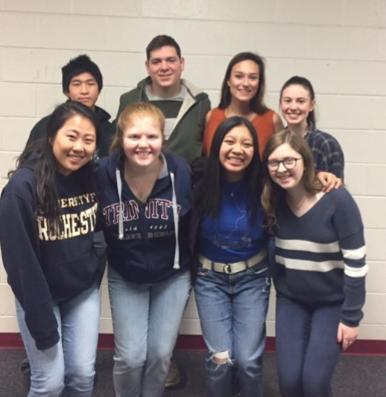 Every year, the most talented high school musicians from across Illinois travel to Peoria to perform together at the Illinois Music Educators Conference (IMEC), which is sponsored by ILMEA (Illinois Music Educators Association).
This year, Vernon Hills High School sent nine students across band, orchestra, and choir to the conference. Despite being a relatively small school, Mr. Russell, the fine arts director, explained that VHHS historically ranks in the top five schools for number of students in attendance at all-state.
"For example, schools like Niles North and [Niles] West will bring 1 to 2 students, and then, there is our school consistently bringing eight to 15 students down to all-state," Russell said. "It really speaks to the strength of choir, band, and orchestra, and all three of them always have kids going down to all-state."
This year's participants included Jillian Boes (11), Kelsey Carido (12), Caylee Brand (10), and Donalie Black (11) in choir; Ariel Chah (12) in orchestra; and Joshua Liu (10), Bobby Black (11), Nikki Medanovic (12), and Ceci Gao (11) in band.
In order to receive this honor, students from surrounding counties come together in October and auditioned for Jazz Band, Band, Orchestra or Choir ensembles. Vernon Hills High School is part of district seven, the most competitive district in Illinois.
Mr. Sundell, VHHS band director, explained that in a typical audition, musicians play a scale sheet, sight read, and prepare, before the audition, two songs to play. They are then scored in all of these areas, and students in the top 25 percent make it to the district ensemble.
The top five percent of the students then receive the opportunity to go and play/sing for all-state or IMEC.
While in Peoria, students participated in all-day rehearsals, and band and orchestra students auditioned for honors ensembles. To end the conference, the musicians performed at a concert on Saturday evening.
Donalie Black got the opportunity to participate in both all-state music (for choir) and the all-state production of Big Fish (as an actor).
"It really feels surreal, it's such an honor to work with so many talented theater members and musicians," Black said.
Nikki Medanovic (12) was part of the Honors Orchestra. Medanovic originally auditioned for band, but due to her skill and the Orchestra needing winds, she was ultimately placed in the Honors Orchestra.
"There are a lot of intricacies to music," Medanovic said. "It's not just all about playing being loud or aggressive, what really impressive is if everybody can be soft and work together."     
Bobby Black represented band for our school by playing the Tuba. He has been involved in ILMEA since middle school and this is his second year making it to all-state.
Caylee Brand was the youngest student in choir to go to all-state. They only began to allow sophomores into the ensembles last year.
"We would have days where we had eight hour rehearsals, [which is] why I lost my voice, but it was a really cool experience and I had a lot of fun," Brand said. "The director for the choir was amazing; I learned a lot and the people there were really nice."