Listen to these fantastically scored shows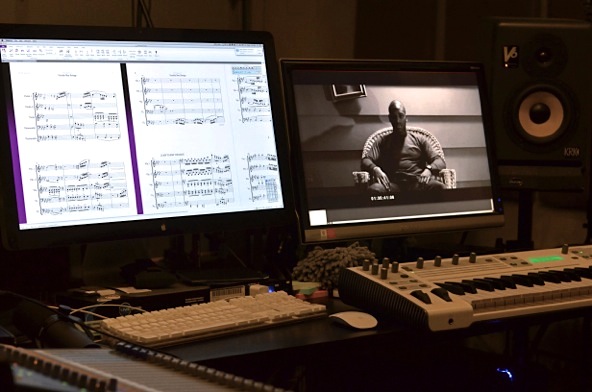 There are many elements that help make a show great and keep viewers watching –one being the score. A lot of work goes into finding the perfect song for each scene, and I believe the scoring of a show can play a part in the show's success. After watching a show with excellent music, I love going onto Spotify and either finding or creating a playlist of all the songs that played throughout the series.
FX's Legion is a fantastic example of this. The show is about X-Men character David Haller, aka Legion, who is a mutant and has one of the strongest psychic abilities out of all the mutants. The show itself is thrilling with its constants twist and turns, and the setting appears inconsistent but seems to be around the 60's and 70's. Therefore, music is taken from artists like The Rolling Stones, The Who, Talking Heads, Jane's Addiction, along with amazing original pieces by Jeff Russo; all of which give off a trippy and mind melting feel and fit the show perfectly.
The music used in this series fits the show incredibly well, and each song choice makes perfect sense with the scene. For example, in the opening sequences, "Happy Jack" by The Who plays as David is shown growing up and experiencing the voices in his head which drive him crazy and later lands him in Clockworks Psychiatry Hospital.
For instance, it's ironic because the title is "Happy Jack," and in the start, David is a happy kid, but as the voices grow louder and his powers arise, he becomes depressed and crazed rather than happy. The irony continues with the lines "the kids couldn't hurt Jack. They tried and tried and tried" because again the older David gets the more negative voices "the kids" he hears which are driving him crazy and "trying to hurt him." There is also an excellent balance between the song fading out and voices that David hears taking over, representing the tension David feels from constantly hearing the voices.      
In scenes where David and his friends are stuck in the hospital, you can't tell if they are real or not– which the director does purposefully. "Pauvre Lola" by Serge Gainsbourg plays during a scene where David appears to hallucinate. The scene features David along with other Clockworks inmates in a dance sequence at the hospital. As the scene and song progresses, voices in David's head start to surface. The childlike laughter in the song itself fits the scene very well and almost makes the audience feel as if they too are hallucinating.
Other songs like "Complexity" by VideoHelper, "Road to Nowhere" by Talking Heads, "Hyperactive" by Thomas Dolby and many others fit the insane feel of the psychiatric hospital and confusing vibe of the entire first season.
My go-to Spotify playlists for this show are Legion Soundtrack by g0u1d1e1 and Legion (Original Television Series Soundtrack) by Jeff Russo, where new songs are added after each episode. I'm already looking forward to hearing more top-notch music in the second season.
The music in Netflix's Stranger Things is very similar to the music in Legion as they both give off a vintage eerie vibe but in two completely different ways. Legion was more messing with your mind and questioning yourself, whereas the music in Stranger Things is more creepy and sci- fi.
Strange supernatural occurrences may be the cause when a young boy goes missing, so it's up to his friends and family to find out where he is and what happened. The more they search, the more unexplainable and extraordinary this mystery becomes. Songs from artists like Joy Division, The Clash, Jefferson Airplane, The Seeds, and many others can be found sprinkled throughout the series.
The theme song alone sets an unsettling and alien-ish tone, while "Atmosphere" by Joy Division adds to that and the 80's setting. A lot of the songs have a dragged, drawn out, and stretched, feel to them which in turn adds to the creepy tone, most notably "Heroes" by Peter Gabriel. In the original version it's more upbeat, but in the series, it takes on more of a stretched-out, sad ballad.
Kyle Dixon, the composer for the show, not only does an excellent job of creating instrumental music that gives off a spellbinding feeling, but also making sure it still fits the time period of the 80's. My go-to Spotify playlist for this show is either Stranger Things (Netflix Original) by Kasey Moore or Stranger Things, Vol. 1 (A Netflix Original Series Soundtrack) by Kyle Dixon.
The scoring behind Netflix's Flaked is a prime example of fitting the setting and vibe really nicely. Chip appears to be the go-to-guy for other characters facing alcohol addiction but in reality, he has just as much baggage and is still drinking himself. The show takes place in Venice, California and features songs by indie bands which overall adds to the already indie and hipster-ish feeling of Venice. Featured indie bands Hinds, Kurt Vile, and Local Natives easily create the mood of the easy-going life that Chips lives in Venice Beach.
In a scene where Chip and his friends are on a road trip to Palm Springs, "Dance Hall Days" by Wang Chung and "Sun Shine On Me" by Buddy Stuart play during their ride which fit the nostalgic road trip mood of the scene perfectly. While later on the when Chip and London are goofing around trying on sunglasses at a rest stop, "Harrow" by Breakdown Bass plays and adds to the flirtatious and playful mood of the scene. During that scene, the music really pulls at the audience's emotions and you hope Chip and London get together. Plus it's a song you definitely can't help but bop your head to. Talk about the epitome of an indie road trip. No other songs could have fit and captured those carefree scenes any better.
Another fantastically scored scene was when Chip took a drink from his fridge and "Tuck The Darkness In" by Bowerbirds played. This beautiful indie song captured the emotion of Chip contemplating and trying to do the right thing instead of sneaking around really well. If you're really into indie bands then the scoring behind Flaked is definitely something you should check out. My go to Spotify playlist for this show is #Flaked Soundtrack by Flaked Soundtrack.
Lastly, another wonderfully scored show is HBO's Westworld. This HBO series is set in a fantasy-fulfilling theme park in the future and features instrumental versions of popular songs like "Paint It Black" and "Black Hole Sun" along with original instrumental pieces composed by Ramin Djawadi. Each song plays to the western and sci-fi setting nicely and pulls you in with each new note. Just the theme song itself creates an eerie mood right off the bat and draws in the audience with its hard hitting and creepy piano keys.
Another song that becomes very familiar throughout the series is "Sweetwater", which plays almost every episode. This song is creepy and fits the mood of the fictional town perfectly. It conveys the town's sorrowfulness and mysticism in just under three minutes. Scattered throughout the series, beautifully unsettling instrumental string quartet music helps build the suspense. Due to the soft and methodical nature of the music, I found this music to be the perfect to listen to when studying. So it's a playlist you'll find yourself listening to quite often. My go to Spotify playlist for this show is Westworld: Season 1 (Music from the HBO Series) by Ramin Djawadi.
All of these shows are already great and intriguing, to begin with and the scoring behind them only amplifies their greatness. Scoring is a major factor that keeps me, and I hope others, watching week after week.