Remembering Morley Safer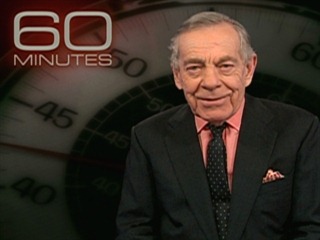 I'll admit, if you had asked me two weeks ago who Morley Safer was, I would have asked, "Who?" Meanwhile, the journalist inside me would have cringed. The veteran journalist for 60 Minutes passed away at the age of 84 on May 19, 2016, just a week after retirement. In lieu of mourning his loss, I think it is quite appropriate to reflect on his monumental career as a journalist, reporter, and news correspondent. "Morley Safer helped create the CBS News we know today. No correspondent had more extraordinary range, from war reporting to coverage of every aspect of modern culture," said CBS News President David Rhodes in an article by 60 Minutes.
In 1951, Safer got his first newspaper job in Ontario, Canada at the Sentinel-Review. His first broadcasting debut was in 1956 during his coverage of the Suez Crisis in Egypt. He later was the only Western correspondent in East Berlin during the construction of the Berlin Wall in 1961. Safer later joined CBS in 1964 as their London correspondent, but most people remember him for his controversial coverage of the Vietnam war. His uncensored coverage of the war made him not only a known figure in the journalistic world, but to the American public as well. He put his own life in danger in order to broadcast the uncensored truth and rawness of the Vietnam war. Most famously, he covered a marines 'search and destroy' mission. Americans watched as marines torched an innocent village in Cam Ne. From that moment on, Safer changed how the American public viewed, saw, and televised war. Following his coverage of the Vietnam war, he was sent to China in 1967. His special report "Morley Safer's Red China Diary" earned him another first: Safer was the first American to broadcast in a communist country. Along with other credentials, this undercover coverage earned him the promotion of bureau chief for CBS' London. He later joined 60 Minutes in 1970.
During his time on 60 Minutes, Safer covered and interviewed many stories which helped boost the ratings during its slow third season. Most notably he investigated The Gulf of Tonkin incident, had a sit-down with first lady Betty Ford, his 1983 investigation of wrongly imprisoned Lenell Geter which ended with his release, and his 2001 "School for the Homeless."
"He never held back from asking any questions, no matter if it made the interviewed squirm a bit," said Amy Gage. These are just a few of the many wonderful and notable reports Safer covered during his time at 60 Minutes. These memorable coverages and ability to ask any questions earned him several awards which include the Robert F. Kennedy Journalism Award First Prize for Domestic Television, three prestigious broadcasting journalism awards, 12 Emmy Awards, three Peabody Awards, and many others.
Without Morley Safer's 46 years of hard work, the journalistic world would not be what it is today. Safer is "a fixture, one of our pillars, and an inspiration in many ways," said a close friend and 60 Minutes producer, Jeff Fager in a 60 Minutes article.