Fall sports concluded with success in all realms
GIRLS CROSS COUNTRY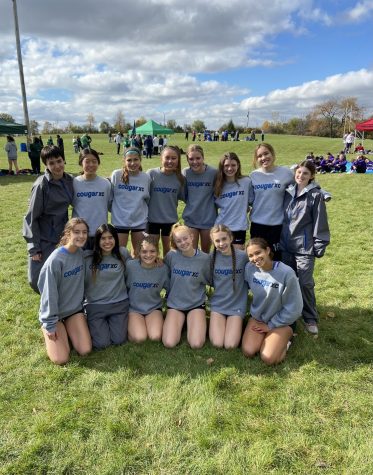 The Girls Cross Country team was 5-0 in conference dual meets (meets between Vernon Hills and only one other team), and seven Varsity runners made All-Conference. These runners are Reina Hill (11), Anna Todd (11), Rose Sheridan (11), Jaydn Parker (10), Jori Ellen (9), Ashlee Shoemaker (11), and Hannah Thomas (11). 
The team won the CSL North Conference Championship and were Lake County Champions earlier in the year. 
At press time, the team placed 2nd at Regionals and Anna Todd (11) had All-Regional honors, placing 4th at the meet. 
The team went on to place 3rd at Sectionals and has qualified for State. 
Kate Sear (11) shared what made the team successful this year. 
"There's a lot of talent, but it's more than that," said Sear. "It's how well the team knows each other and everyone really has fun. When people have fun at practices, they're inclined to work harder." 
Sear also highlighted that with fewer COVID-19 restrictions, there has been more interaction and connection between the team, making the sport even more fun. 
"This year you got to know everyone, which was great. [It] was much more similar to my freshman year, which I enjoyed," Sear said. 
BOYS CROSS COUNTRY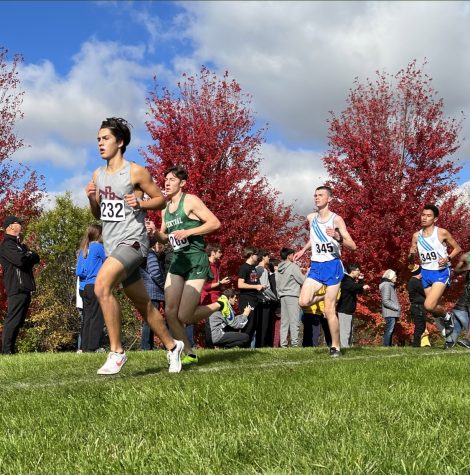 The Boys Cross Country team also had an impressive season. 
The team placed 3rd at Regionals and qualified for Sectionals. Unfortunately, the team fell short of State Qualification. 
Earlier in the season, at the CSL North Conference Championship meet, the freshman team placed 1st, the JV team placed 2nd, and the Varsity team placed 3rd. 
Preston Wright (11) said that individually, his biggest accomplishment was consistently improving his time. 
According to Steve Szabo, head coach of the Boys Cross Country team, every runner on the team improved their race time during the season, with average improvement at 13% and greatest improvement at 27%. 
Erick Herrera (11) attributed the success of the team to Szabo, who recently ran in the Boston Marathon. Herrera says his marathon experience and knowledge helped the team win many races. 
"[Szabo] is an experienced marathon runner and he went to Boston this year, which is hard to get into. He used his knowledge to help us run and we won a few races," Herrera said. 
GIRLS VOLLEYBALL
The Varsity Girls Volleyball team finished with a 19-17 record for the season. 
The JV team finished with a 16-19, Freshman A finished with a 15-20, and Freshman B finished 18-13. 
The Varsity team fell to Cary Grove in their Regional match. 
Ashley Vollen (10) shared how she felt the season went this year. 
"For the first season getting back after Covid, I think it went extremely well… it wasn't perfect, but it went pretty well for the first year back," she said. 
Vollen said that friendships were created during the season, which made playing the sport even more fun. 
"[Our coach] brought us together and made us look like an actual team," said Vollen. "It was really fun to be playing with each other at the end of the year, especially since our skills improved along with our team bonding." 
BOYS SOCCER 
Boys Soccer had a 11-4-3 record during the regular season and went on to win Regionals 4-3 against Lake Forest.
The team was eliminated from playoff contention after a 2-0 loss to Grayslake Central in the Sectional Semifinal round of the tournament. 
Prior to the Regional final, forward Zidan Chaires (12) shared the significance of the playoff games. 
"This is my senior year, [which] means if we lose, we're out, so I really hope that every single one of my teammates, including myself, give everything we have," said Chaires. 
Center back Andre Glamocak (12) and center midfielder Glen McGowean (12) agreed with Chaires. They both said they believe their team is special. 
McGowean said, "We're all family and we really push ourselves to the max. We all have each other's backs and it's just an amazing club to be a part of."
"[Our team] is a big family and you can count on anyone," Glamocak agreed.
GIRLS SWIM & DIVE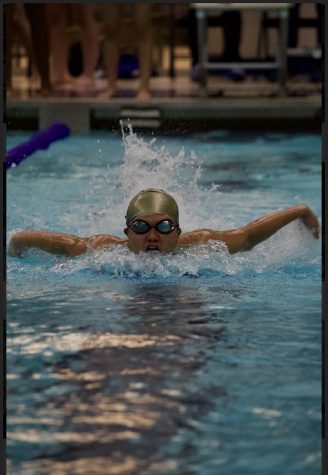 Girls Swim had a 5-1 record for all dual meets, was undefeated for CSL dual meets, and placed first at the Blue Devil Invite. 
At press time, the Varsity team won the CSL North Conference Title and JV placed 3rd. Varsity will compete at Sectionals on November 6th, where they will try to qualify for State.
Alyse Lichtenstein (12) began the season by breaking the pool record for 6 dives at Libertyville with a score of 243.55. 
Izzy Ramos (11) broke the pool record in Maine East with a 200 individual medley time of 2:11.25. 
Livy Tran (9) finished the season by breaking the JV record for 11 dives with a score of 369.90. 
Michelle Utsis (9), a JV swimmer, felt that bonding with her teammates made the season even more memorable.  
She described her first season experience. 
"[The season] went really well. I met a lot of new people and it was a lot of fun. We practiced, worked really hard, and won most of our meets," she said.
Emma Janzen (9), a Varsity swimmer, shared what she believes made the team successful. 
"Everyone is really close, and everyone's really kind," Janzen said. "If [the team] has a lot of drama and is very cliquey then obviously, things don't really work out very well. But everyone is super together, and the coaching is great." 
GIRLS TENNIS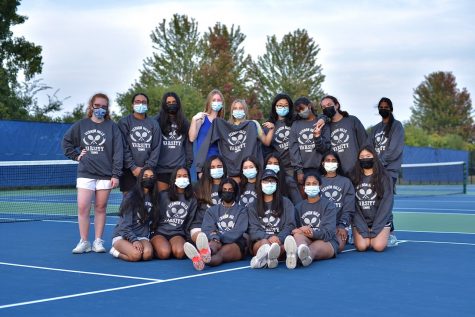 The Girls Tennis team finished 3rd in their conference at both the Varsity and JV levels. The Varsity team were also Cougar Classic Champions. 
Their record for the regular season was 10-12-2. 
At Sectionals, the team placed 6th, with Katie Lee (12) and Sophia Kim (12) competing as singles and Shriya Avula (12), Ritika Dashaputra (12), Ruhi Subramanian (10), and Julia Kabalkin (9), playing as doubles. 
Kalbalkin, who is a freshman playing on Varsity, said she enjoyed her first season and made a lot of memories. She said the best part of her season was bonding with her partner and getting to know her better.
Dhriti Hiremath (10) also felt that connecting with her teammates made the season even more enjoyable. 
"This year, I was able to bond with a lot more people than last year," she said. "Last year was really hard due to COVID. But this year, it was really fun to make more memories with people and just play tennis."
Hiremath also shared what she believes led to the success of the team. 
"I think what made our team the most successful was being able to be focused at practices, being able to talk to each other, and being there for each other," she said. 
OTHER SPORTS
The Girls Golf Team capped off a record breaking season, making VHHS history by winning their conference as a team. Individually, Lexi Schulman (11) won Regionals and went on to place 14th in the State. Anna Lee (10) also had a successful season and qualified for Sectionals. 
The Boys Golf Team also won their conference, in addition to winning Regionals on a 5th Score tiebreaker. Dylan Josephson (12) individually went to State and placed 21st. 
Varsity football begins their playoff quest, finishing the regular season with a 7-2 record. The team was eliminated from playoff contention following a 49-0 loss of Prairie Ridge in their first playoff game. 
As of press time, Varsity hockey had a 3-1 record. 
*The fastest recorded time or highest score in a pool in a specific event