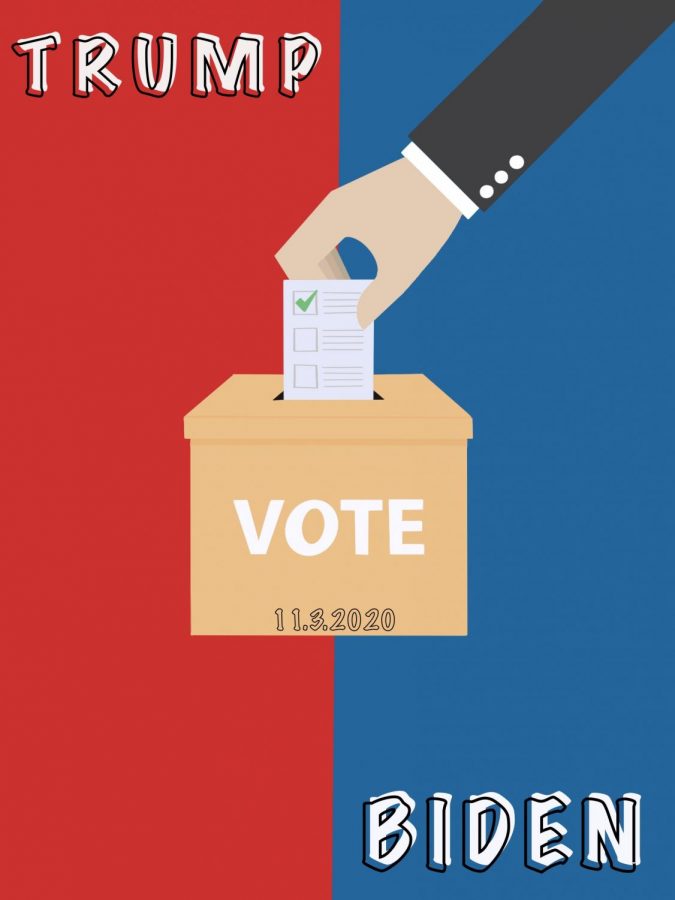 As America geared up for the 2020 election, so did a portion of an often-overlooked demographic: high school students. Historically, young people have had the lowest voting turnout. According to the US Census Bureau, 46.1% of voters aged 18-29 years old voted in 2016 while 58.7% of 30-44 year olds and 70.8% of voters 65 years and older voted in that same year. 
In a TSP survey of 42 VHHS seniors, 21.4% were eligible to vote in the 2020 election, all of which reported that they planned on voting. However, the majority of seniors are ineligible to vote due to age as Illinois voting laws state that students must be 18 or older by Election Day in order to vote.
Illinois voters can use three methods to vote: mail-in ballots, early in-person voting or in-person voting on Election Day. 
Early voting in Illinois began on Sept. 24 as a way for voters to avoid long lines and crowds come Nov. 3—a safer option than voting in-person due to the pandemic. In Illinois, mail-in ballots had to be postmarked by Election Day. Sammie Reinstein (12), a first-time voter, voted by mail-in ballot, the same way as 44% of VHHS seniors eligible to vote.
"I chose [a] mail-in ballot because I think it's more safe with the state of the pandemic," Reinstein said. "My parents have been voting by mail for years now, so I'm used to that."
Reinstein voted not only because she loves politics but also because she recognizes the equal importance of both national and local elections. She referenced the Fair Tax Amendment on the Illinois ballot this year, which according to WTTW, planned on changing tax rates from a flat tax of 4.95% to a graduated structure.
"You're not voting for just the president, you're voting for everything around you," Reinstein said. 
On the other hand, Natalie Varela (12) opted to vote in-person on Election Day.
"Since it's my first time voting, I wanted the experience of going into the place and voting," Varela said.
Varela explained that she voted because it is her civic duty and said she needed to do her part by voting to help the people impacted by issues that will be majorly affected depending on the outcome of the election.
According to the survey, 100% of voting seniors conducted research about candidates prior to voting.
"Our news today is partisan, so I try to look at sources that are unbiased," Reinstein said, who regularly uses Associated Press News, a media source known for its high level of factual reporting and credibility.
Mr. Kurt Erickson, an AP Government teacher, emphasized the challenge of teaching students the difference between facts and disinformation. He stated that the last couple of years have been the most challenging of his career as a teacher because of the polarizing political climate. 
"I have always made a point throughout my career to stay as objective as possible," Mr. Erikson said. "My job as a teacher is to give [students] the tools to become critical thinkers but not to tell [them] what to think." 
At VHHS, seniors are required to take a semester-long government course to graduate, and students can opt to take either the Government or Advanced Placement Government course to fulfill this state requirement.
He explained how it's important to not only instruct and teach kids about voting but to engage politically, whether it is getting involved with interest groups or writing letters to members of Congress.
"The most important part of any government class in high school is to promote civic engagement," Mr. Erikson said. "My goal is that when my students walk out, not only are they passing the course, but my goal is that [they] feel intrinsic motivation to be engaged citizens. That's the most important part of the course." 
Some seniors have been involved in this election process.
Reinstein remained civically engaged by encouraging others to vote; she also volunteered her time with a campaign by participating in phone banks and contacting voters from states like Texas and Wisconsin about the candidate and providing voting information.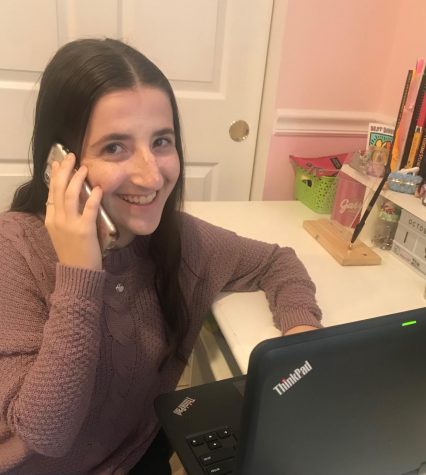 Zander Schwartz (12), a student taking Mr. Erickson's AP Government class, has also been engaged and informed during this time. 
"Despite quarantine, I've remained civically engaged through discussions with my friends, forming my own beliefs on posts and news articles I read and breaking down the stigma of holding a belief that's different from the rest," Schwartz said. "This past week, I cast my ballot for the General Election!"