VHHS supports students' mental health throughout suicide prevention month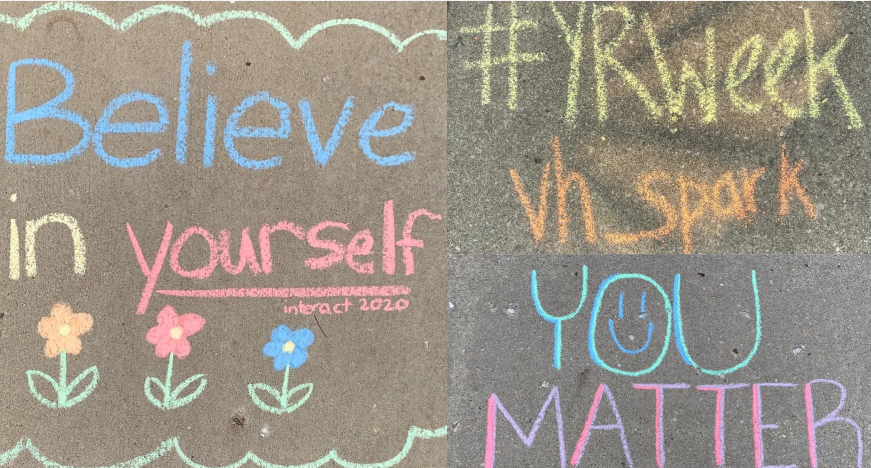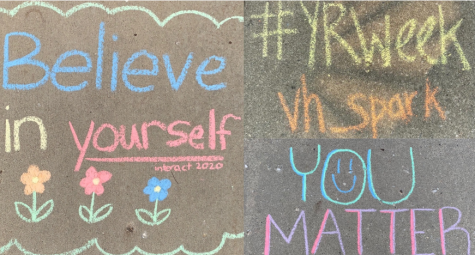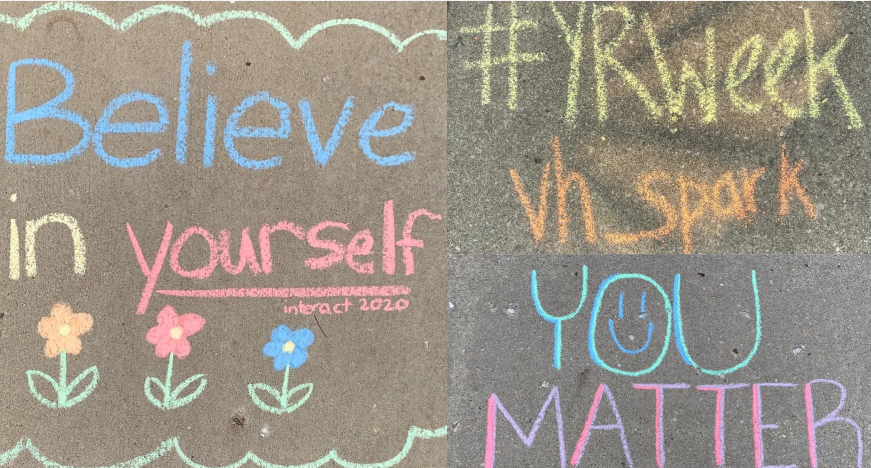 September marks suicide prevention month, which influenced students and staff to reach out and display their support through Yellow Ribbon Week activities led by SPARK. 
VHHS has many resources for its students to get support for their mental health. This year, the staff had specific training about how to help their students through their problems. In addition to the social workers and LST staff, there is a new virtual resource called Calm Place where students can access activities to help ease stress and anxiety. 
Last week, SPARK initiated a "Chalk Your Walk" challenge where VHHS students and staff were asked to write positive messages on their sidewalks and tag their friends to participate as well. Many student clubs and sports participated in this challenge, including Interact, JSA, and Girls' Cross Country. 
"[SPARK is] always there as a friend for people to talk to. We also really promote people to go to the LST if they need to go and talk to someone," said SPARK executive board member, Sammie Reinstein (12). "This year we did 'chalk your walk' where we put positive messages on the sidewalk with chalk…. [to keep] spreading the positivity to help with mental wellness." 
By displaying their support during Yellow Ribbon Week, SPARK aims to encourage VHHS students to reach out if they need mental health support, and they believe that at-home learning has had a negative impact on the mental health of adolescents.
VHHS school social worker, Mr. Doug Dusthimer, noticed a common factor that affects students. 
"My coworker and I did a presentation in health class last week for their mental health section, and one of the things that we asked them was 'what do you miss most about not being in school?' Nearly 100% of the kids said 'I miss being with my friends.' They miss that social connecting," said Dusthimer.
A survey taken by 100 VHHS students reflects the drawbacks of distanced learning, revealing that 43% of those surveyed felt that their mental health had become worse during the pandemic and e-learning.
Due to these circumstances, the LST recognizes the increased need for mental and emotional support. They are making a greater effort to spread the word about telecounseling resources by attaching links to mass emails, student surveys, and the school website. 
Mrs. Amy Dillon, the Prevention & Wellness Coordinator for VHHS, promoted the various resources available to students. 
"You should know who your counselor is. They are great people to reach out to. We [also] have social workers in the building who can help; I'm able to help," said Dillon. "If you have a teacher or coach or a club sponsor that you feel close to, ask one of them because they very easily know how to get into contact with any of us, and they can help you."
Jasmine Williams, Nicolle Bek, and Izzy Castilla contributed to this report.