Yearbook miracle
Nine students work all year to create the 244 page yearbook
Many VHHS students are getting ready to wind down and look back upon this school year. Whether it's the fall play or a VH2O meeting, there are plenty of events that people may begin to look back upon fondly. And as students take a look back, what better place to look than the yearbook?
It's easy to pick up a yearbook and quickly skim through it for the events you liked or were a part of, possibly looking for your friends and asking for their signatures. But what many people forget is how much effort is put into making a yearbook, and how much time it takes to make.
School events take place all throughout the year, so the yearbook team has to get on the job as soon as possible. One page which you might flip through in two seconds can take quite some time to make. They need to take photos of events at school, use those photos to create spreads that would go on pages, then create captions for each image. They also interview students and staff in order to write stories to go along with the images.
According to the Editor-in-Chief Irene Levering (12), the process can get pretty hectic, especially now with the coronavirus crisis.
"Typically we have fewer pages due in the fall, since we are spending our time creating a visual and verbal theme for the book, and then we have a lot more pages" Levering said.
This whole process can be stressful due to the constant deadlines, the time-sensitive events, and the stress of making something that covers an entire year's worth of events. All of this pressure falls on the shoulders of only nine students.
According to Andres Rodriguez (11) the class was pretty heavy in terms of workload for a bit.
"There was about a month there where the learning process got pretty hectic…The big part at the beginning is just getting used to constant work towards smaller goals," Rodriguez said. "As long as you don't let your work pile up, and ask for help when you need it, you have a much easier time."
According to Levering, this pressure also serves to push the team together and make them closer.
"The yearbook staff is unlike anything else I've been a part of in that it's a super small group, so we have to get comfortable with each other fast in order to create 244 pages. We typically become very close and are more of a family than a class by the end of the year," Levering said.
With the team constantly working from deadline to deadline, it's no wonder that the yearbook team has become close knit. According to Carolyn McDonald, the teacher of the yearbook class, the whole yearbook team works like a family, where they bounce ideas off each other.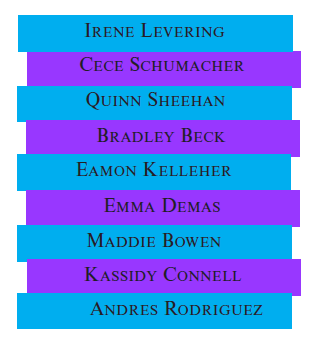 "The personalities of each and every one of the students complement one another in order to create a true family atmosphere. We laugh a ton, we struggle through difficulties while trying not to take life too seriously, and we've got each other's back every step of the way," McDonald said.
With this positive atmosphere, the team pushes on together to put forward a yearbook that encapsulates the school year. So, next time you flip through the yearbook, just remember the group of nine students who make it possible.