Students find motivation in style
During the shelter-in-place order, because we aren't in the typical school environment where we see a multitude of other students every day, it can be easy to lose motivation and go all out with pajamas. But, some students have found ways to motivate themselves through their own clothing styles or even test out new styles.
Although Michael Lee (11) hasn't done much to change his clothing to a different style from when he is usually at school, he did decide to dye his hair.
"I got a bit bored. It's also a trend, so I hopped on that trend," Lee said.
Not many students have explored different hair styles. In the TSP survey, only 20% of students said they had tried out a new hairstyle.
One might think that during the shelter-in-place order, it would be harder to dye someone's hair, but Lee was able to dye his hair.
"It was a two-day process. I bleached it first to get all the pigment out of my hair, 'cause my hair is really dark," Lee said. "Then, I dyed it."
Although the process of dying his hair went smoothly, the coloring didn't turn out the way he'd expected, with it becoming more golden than he anticipated.
"First, I wanted it to get silver, but as you can see it… it didn't. It's fine," Lee said.
In the end, it didn't really matter to Lee that the color came out wrong as he found greater meaning in dying his hair as a whole
"I feel different. When I look at myself in the mirror, my hair color is different, so I'm like, 'Yeah, I did something for myself,'" Lee said.
Throughout the shelter-in-place, sophomore Shay Pechter's style has shifted more towards comfort, rather than wearing her usual outfits she would have worn to school.
"I like to wear athletic shorts or leggings with t-shirts — something comfortable, but where I'm still motivated to work out so that I don't fall back asleep," Pechter said.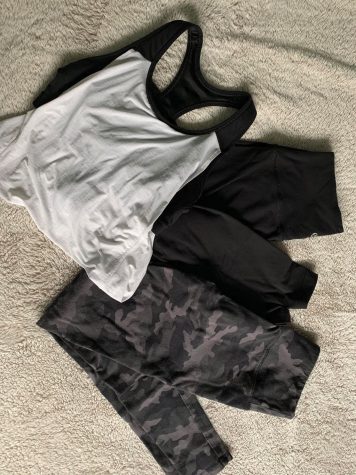 In a TSP survey of 115 people, 68.7% said they don't care how they dress and choose to wear sweatpants or pajamas in place of outfits they would normally wear each day. Given the results, Pechter is a bit different than the norm, as she does put in the care to wear outfits that motivate her.
Part of the reason that wearing motivating clothes is important for Pechter is to keep her awake during e-learning.
"When I wear pj's, I usually fall back asleep," Pechter said.
Pechter also chooses to wear comfortable, motivating clothes due to her athletic involvement.
Although sports like lacrosse have been cancelled due to students not returning to school for the rest of the year, Pechter plans to stay active and in shape so that when lacrosse season rolls back around, she will be ready.
One student who is using his clothing to motivate himself is Zander Schwartz (11).
Schwartz struts out of his room rockin' the usual outfit with a primary color scheme flannel and some blue jeans — with socks in crocs, of course. Ready for the day, he packs his chromebook and heads off downstairs and sets up his chromebook for school.
"Honestly, I'm more comfortable in jeans at home, so I just wear whatever I would wear to school normally. I've been wearing some flannels like I usually do," Schwartz said.
To some, this outfit might seem like it takes more effort than it's worth. To Schwartz, the idea of the clothes serves a bigger purpose than the fashion aspect.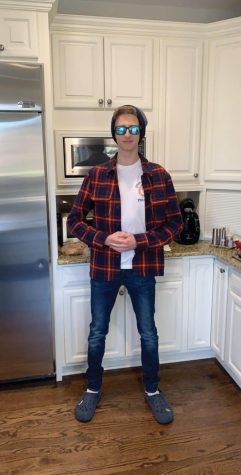 "I don't feel like my 100% when I'm wearing pajamas all the time, so as soon as I get out of bed, I make sure to change so I can feel fresh for the day," Schwartz said. "I kinda just treat it like I go to school, just 'cause it makes me feel better."
To Schwartz, it's not about the style; it's about how the simple action of changing into these clothes helps him feel like he's in the school mindset so he can focus on e-learning.
"It's not that I change because I want to feel more motivated, it's that when I do change, I end up having a stronger work ethic," Schwartz said.