Elective enrollment split by gender
When I walked into Ms. Whitescarvers' 2nd-period Preschool class, the students looked at me as if I was an endangered species. The rare sight of a male student in a preschool class made me stand out like a beacon. This was because male students rarely enroll in elective classes like Preschool.
Students can choose electives from different departments, including Family and Consumer Sciences or Applied Tech, which offer classes like Automotive Technology I, Infant Development, Foods, etc. It's here enrollment is often uneven among genders.
For instance, classes in the Applied Tech department, like Autos, consist of a high male population. 78.5% of the students enrolled for classes in this department are male, and 21.5% of students are female.
Within the department, certain electives consist solely of male students. Automotive Technology II and Woodworking I do not have any female enrollment.
Mr. Rush, the Autos teacher at VHHS, touched on the importance of students of all genders learning the valuable life skills taught in his class.
"That's 50% of the school's population that is almost untapped in terms of coming into the class," Mr. Rush said.
Mr. Rush explained that everyone who drives a car should learn how to change a tire roadside, how to jumpstart a vehicle, and how to read your various warning lights.
"I do not know how to change a tire, but I can change a diaper," Olivia Sweeney (12) said.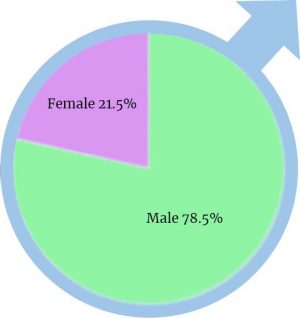 Olivia is enrolled in Preschool, a course offered through the Family and Consumer Sciences department. In all of the preschool classes combined, there is only one male student enrolled. In Infant Development and Preschool 2, there are zero boys. Among the entire department, girls make up 73.4% of the population.
As for the 26.6% of the male population, a large majority of them are in Consumer Management, a required course, according to Ms. Garcia, a school counselor.
The lack of male students in the department implies that they won't learn parenting skills, cooking skills, or teaching tactics through the school's curriculum.
More specifically, Ms. Whitescarver, the preschool teacher, said students miss out on learning the specific tools that teach young children to love learning — a skill any parent or future parent would benefit from knowing.
"Students will understand and learn about the specific tools that help a young child love learning and be a part of it to help inspire," said Ms. Whitescarver.
This is an issue in the P.E. department as well. Dance classes at VHHS are almost entirely made up of girls. Dance 3 consists of 100% female students, Dance 2 is 93.7% female, and Dance 1 is 96.6% female.
On the other hand, Strength and Conditioning classes are mostly populated by boys. Strength and Conditioning 1 has 83% males, and Strength and Conditioning 2 is 94% male.
All of these enrollment numbers are from the 1st semester of this year, meaning these issues of electives and gym classes are current.
Most students are missing out on valuable life skills by not enrolling in classes outside of their regular department. There could be a number of reasons why this is the case.
"Truthfully, I think students pick the classes their friends are taking," said Ms. Garcia.
If students are in fact following others into their classes, there is no wonder why certain electives are dominated by one gender or the other. Guys follow their guy friends and girls follow theirs. Mr. Rush encourages students to consider trying out different electives.
"You know, the Infant Development… Auto Tech, any of the engineering or applied tech classes, or fine arts, those are a chance for kids to work with their hands," said Mr. Rush. "Whether you're male or female, it's just nice to take a break from the screen."