It's lunchtime at VHHS
The Process
Over ten years ago, the Board of Education gave out a notice, which alerted local lunch-caterers that the school was looking for a food service company. Each company bidded to give VHHS and LHS the lowest price. The choice was narrowed down to the three least expensive. According to Yasmine Dada, Assistant Superintendent of Business Services, students and teachers were sent to schools with the different lunch programs, and they tried the food. "We wanted to make sure we explored all our options," Dada says.
Chartwells was awarded the contract because of a low price and food that students and teachers preferred to the other options. According to their website, the company's biggest priority is food safety and catering to the allergy needs of each individual. However, "allergies" do not cover all of the school's dietary needs. Chartwells does not take into account other dietary needs, so, in order for VHHS to add more options– like a salad bar– the school would need to pay; Chartwells does not guarantee many options for different diets.
On a different note, Chartwell's employees are wonderful. These employees– the people who run the registers as well as the cooks– work for the the company, not the school. However, they are very sweet and always tell kids to have a nice day, and they help the students out the best they can.
Students' views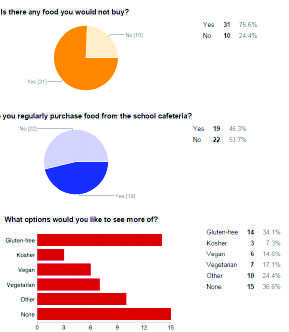 The Scratching Post circulated surveys asking each student about his or her lunch preference. As with any survey, there were a few interesting answers, including a request for Chinese food and a request for more vegetarian options "so my friend does not hold up the line ranting."
Out of the 41 students who responded, a little under half said they regularly buy food from the cafeteria, and 31 students or 75.6% said that there is food they would definitely not buy. 10 of the 31 responded that they would not buy the meat or fish, and six said they would not eat the pizza. Meanwhile, when asked what other choices students would like to see, there were 14 asking for gluten-free, three for Kosher, six for vegan, and seven for vegetarian. One person also asked for more organic food.
What does this all mean? Primarily, it answers the initial question: most students here wish for changes in the school lunches. Currently, there are very few gluten-free options here at school: fruit snacks, some salads, and meats and fish, and none of those are guaranteed gluten-free. (Some people have celiac, which means they are so allergic to gluten that if any gluten touches the pan food is made in or is prepared in the same factory as something with gluten, they cannot eat that food.) People who cannot have gluten, therefore, cannot really eat in the cafeteria. On the other hand, we have a few more options for vegetarians. There's pasta, salad, fruit, yogurt, and occasionally another option. However, not everybody likes pasta or salad (or would like to eat it every single day), and it is a bit harder to only eat fruit or yogurt for lunch. Vegans, however, cannot eat anything with animal products and are limited to the salad.
In total, we need better options for non-meat-eaters. Our school has many options and cheap food, however the food mostly caters to normal needs and does not help those who do not eat meat or gluten. According to various sources, 33 percent of Americans either choose not to eat gluten or have celiac, and five percent are vegetarian or vegan. If these statistics apply to our school, then 454 people out of 1361 are gluten-free, and 67 are vegetarian or vegan. That may not be everybody, but that's a lot of people— it is time for Chartwells and our school to cater to everybody's needs.