Students go to work at Vernon Hills
Cougar Guard 
Cougar Guard Club is where students can either lifeguard or teach young kids how to swim. For David Jun (11), working with Cougar Guard is very fun as he enjoys working with the kids, who he finds "very cute."
Jun began his journey in Cougar Guard as a sophomore when he was asked to join by his Swim & Dive coach, Radhika Joshi, who is also the adviser for the club.
"[David is] very energetic and brings fun to the teaching," Joshi said. "He loves to be around kids, and that shows when he's with the kids because they love him back."
Cougar Guard looks for students who know how to swim, and who are part of the swim team or do some form of swimming outside of school.
Once a student is lifeguard certified, they are able to apply for the lifeguard position. On the other hand, if a student is applying for the instructor position, they will need to attend the clinic the school runs at the beginning of the year. Once they attend that, the Cougar Guard Club will be able to consider them for hire.
Many of the kids who come for the swim program want to learn the fundamentals strokes needed for swimming.
"If you're passionate about teaching other kids out of school and helping little kids learn to swim, Cougar Guard is definitely for you," Jun said.
Theater tech 
The audience who was bustling with chatter came to pin-drop silence as the lights dimmed. The shuffling of the tech crew's feet could be heard on the stage as they were trying to make sure everything is in place before the show starts.
Jobs in theater tech are very diverse in what they have to offer. Some of the jobs offered are running the sound and lights, helping onstage or it could even be managing the house.
Isabella Pineda (12) started working for the school's theater tech when she was a freshman. She had the help of some of the upperclassmen as they talked to her and gave her more details about what it is like to be on the job.
Her interest was piqued when she realized she got to do something she loved alongside some of her closest friends. "It's not really a job for me; it's kind of just like I get paid to do things that I enjoy," Pineda said.
Pineda highlighted the perks of working in the school. "You get flexible hours," she said. "If you ever need to ask a question, it's easy to find the staff coordinator in the school, and if you have a study hall, you are able to set up for something later in the day."
Kevin Phelan, the technical theatre coordinator for the school, said that there are great opportunities to be able to be recognized. For example, Pineda has been recognized as a top technician in the state.
"She's talented, strong and she's also a really good artist, plus she's going to be designing the set for the winter play," Phelan added.
"You basically get paid to watch your friends dance and sing, which is amazing," Pineda said.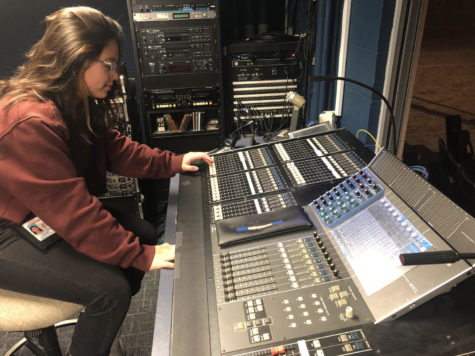 IT Intern
IT Intern is a job only offered in school during breaks. To work as an IT Intern a student should have an interest in either IT or Computer science. The job will require them to mainly do the following tasks: Inventory; removing data from desktops and Chromebooks; setting up new Chromebooks, desktops and projectors; and pulling wire through ceilings. 
Bridget Leary (11) started her journey as an IT Intern when her Computer Science Club teacher referred her to start working for the school.
"Coming back to school at the end of the summer isn't much of a shock, as you have spent the summer here in school," Leary said.
Leary said working for the IT department was awesome and plus has flexible hours. 
Bo Warmbold, IT coordinator, said, "Bridget is a really hard worker and she's really focused…if you give her a task, she's going to finish it."
Recycling is a big thing IT Interns do. Recycling is getting rid of or depreciating a device that needs to have any district data pulled off of it. 
Then, they have to catalog it in the inventory as recycled equipment. They work with a company that comes and picks up the materials.
Warmbold said the IT internship is a great program, and if students are interested, they should stop by the IT office to let them know. 
He added, "It's a great help to us, as a lot is done in a short period of time, so we are always looking for people interested.