Running through James' accomplishments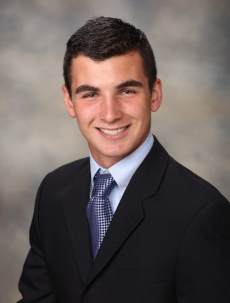 For James McDonald (12), crutching a mile on a fractured ankle was a challenge he couldn't pass up.
  In eighth grade, James had fractured his ankle at a basketball game. Walking back home from a football game, James and his friends were wondering if he would be able to run a mile in crutches and a boot. After Alex Choi (12) insisted that he wouldn't make it home in time, James decided to test himself.
In under fifteen minutes, James arrived home — before all of his friends.
James has been selected as a member of the IHSA All-State Academic Team. This prestigious honor is awarded to 13 male and 13 female Illinois student athletes every year. After being nominated by their prospective schools, students are evaluated by a committee based on their GPA, participation in sports and community involvement.
James didn't even realize he was being nominated for the team until someone he mows lawns for told him "congratulations." He was confused, not knowing the reason for the well wishes, but told them "thank you."
"And then they said, 'I thought you were just a normal jock,'" James said.
At first glance, James may just seem like a "normal jock." He is busy all year-round with cross country and lacrosse, and previously played on VHHS's basketball and track teams. Also, many are familiar with James' successful athletic career, from being nominated for All-Conference for track, lacrosse and cross country to getting 15th place at the IHSA State 2A meet his senior year.
However, as per the All-State Academic Team's requirements, James is an accomplished individual off the track and field as well. At school, he challenges himself in AP classes, along with being National Honor Society vice president and a Unified Partner for the Special Olympics basketball team.
One of the recurring praises for James is his ability to balance school, sports and a social life. His natural work ethic and dedication have been present in him since a young age.
"He's also a natural leader; a lot of people look up to him."
Jack McDonald (10), his brother, talked about how "it was kind of crazy" that James applies his same work ethic from school and sports at home. He is always trying to be the best at whatever he does, which means he's always doing homework, studying for tests or training.
Since being on the cross country team in middle school, James took a break freshman and sophomore year. He joined the team again for junior and senior year and has been cross country captain and squad leader both years.
"This year, it was my first year as a coach, but it was neat to see how much he enjoyed his squad," Mr. Rush, cross country coach, said. "I was really impressed with
how he took these younger freshmen under his wing, and he was really a good role model to them."
Both Christian Gitzinger (9) and Oskar Jedynak (10) were members of James' squad. As underclassmen meeting James, they immediately thought of him as a "stud" and were instantly impressed by his skill.
However, over the course of the season, they saw how he was more than just a serious leader. He would always be cracking jokes, getting to know people and encouraging everyone to work hard, while leading as an example. By the end of the season, he was both a good friend and teammate.
"The best thing about Jimmy is that he's willing to talk to anyone no matter what year you're in," Gitzinger said. "I expected upperclassmen to not talk to freshmen that much, but he changed my mindset about that."
Forming connections with his squad went beyond the basic responsibility for James. Jedynak recalled a note that James gave to him right before James' race at the state meet. The note expressed how James was going to be leaving Vernon Hills soon and how he'll miss Jedynak.
"When I read it, I was in tears. He said many unforgettable, inspirational [things]…I felt really thankful," Jedynak said.
As James' coach, Mr. Rush also shared many stories of James' endurance and perseverance.
At one of his senior year conference meets, James' race didn't start out so well. Many of his friends had showed up to Deerfield High School to support him, but about a mile in, he was at 15th place, further back than he usually is. However, he kept going until he finished in fourth place.
"At the end, we're talking about his race…and he says he couldn't just — [since] all of his friends showed up — take 15th place; he had to move up," Mr. Rush said. "He really rose to the occasion…And I think that speaks to his ability to really push when he wants to, when he needs to."
One of the most inspirational things about James is his commitment to giving back. For the past three years, James has been working with the Special Olympics basketball team. As a Unified Partner, his responsibility is to make sure everyone is included. However, as with everything he does, James fully commits himself to his role on the team.
"He's had a huge commitment to give back," Mrs. McDonald, James' mother, said. "I remember, like it was yesterday, when he came home so excited because there was a young man on the team that hadn't scored yet, and they got him to score that game."
In his neighborhood, James runs a lawn and snow removal service. Every year, he takes a portion of his earnings and donates them to VHHS's Special Olympics program.
"He has gotten out of Special Olympics at least as much as he has given," Mrs. McDonald said. "I'm just so glad that he found that because it really has been life-giving to him."
James takes his trademark motivation and passion even beyond the academic, athletic and extracurricular work he does. Growing up in an outdoorsy family, he's always been very adventurous, enjoying hunting, fishing and canoeing.
Next fall, James will be attending USC as an Economics major. Although he received a four-year Reserve Officer Training Corps (ROTC) scholarship, he is still unsure on whether he will take that offer or not. He does, however, plan to go to the military after graduating. Specifically, he wants to go into Special Operations.
"I certainly want to get out there, see the world, see what it's like outside of America and maybe do something good every once in a while," James joked.
To many in the community, James is an inspiration for what a model student, athlete, leader, friend, brother and son is like. Despite working hard and making an effort for whatever he does, James has been able to enjoy high school and his time with friends.
For James, there was no "magic thing" that led to his success. Instead, he has always strived to achieve balance in his life and urges other student athletes to do the same.
"Sometimes, kids think they can't do both [school and sports], that they can't strike that balance, but that's by no means the case," James said. "There's a lot of time that's just dead time, of like watching TV. If you just cut that out, you'll be able to do your homework and go out with your friends."