Math Team leaders enjoy problem-solving, collaboration
Vernon Hills High school's Math Team has experienced ups and downs this season. While they did not place at the NSML conference, prior to that meet, they placed second in the 3AA division at Stevenson High School. The Math Team's final meet of the 2018-2019 season will take place in early May at University of Illinois Urbana-Champaign for the ICTM State competition.
The two leaders of the team, Jeffrey Zhang (12) and Rachel Liu (12), take on a variety of tasks. From making sure members know when meets are to supplying snacks, Zhang and Liu are key to keeping the team going.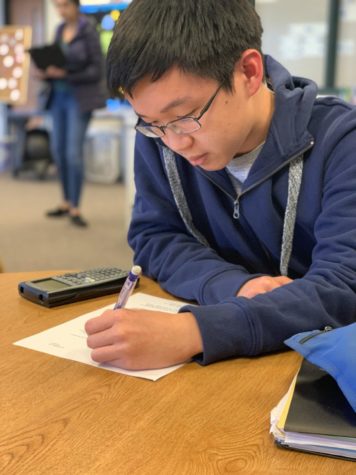 Jeffrey Zhang is the president of the VHHS Math Team. He has been a part of the Math Team for all four years of his high school career.
Zhang was a member of the middle school Math Team in eighth grade, and has always loved math as a subject.
"I was looking for a club to join as a freshman and found that Math Team perfectly suited my interests," Zhang said.
Zhang enjoys the parallels between math and his other core classes. The ability to use the same problem-solving mindset with math and apply it to perhaps a social studies class, is something that he finds unique about the subject.
"It's a great feeling to puzzle out a particularly challenging problem in a clever way by using the tools I've learned from my teachers," Zhang said.
Zhang is part of the two-person team for state and regionals, which he said is one of the more exciting types of competitions. For the two-person team, the students are given three minutes to complete a question, but answering first and within the first or second minute gives the team more points. It really is based on speed, which is why it's Zhang's favorite type of competition.
"Pooling together our knowledge and insight on whatever esoteric problem we have to solve under the strict time limit is a good way to get my heart pumping," Zhang said.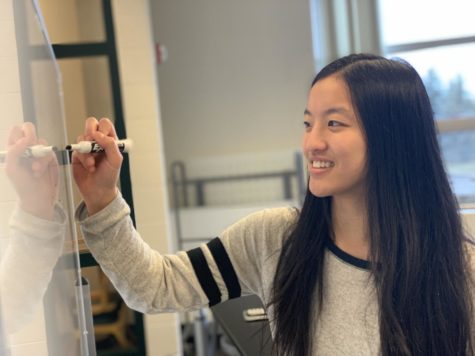 Rachel Liu is the vice president of Math Team. She has been a part of the Math Team since the beginning of her freshman year and was encouraged to join by her sister, who was also on the team.
"My older sister had been a pretty committed member, so I decided I'd follow her footsteps and try it out. I liked math, and I had friends who would join with me," Liu said.
Liu was attracted to the collaboration aspect of the Math Team. She explained how the math team is really a group effort with everything they do.
"At first, it's odd to think that you can do math in a team setting, but from teaching each other, to feeding each other (snacks at every practice are essential), to contributing individually to the team score at a meet, Math Team really is a team effort," Liu said.
Liu remembers her most exciting moment on the Math Team — her freshman year, when the team placed fifth at state.
"It was a new experience for me, and while we didn't get escorted home by wailing firetrucks and police cars since it wasn't first place, it was an accomplishment nonetheless," Liu said.
Liu plans on pursuing a career in the STEM field, either in biomedical/bioengineering or chemical engineering. Although she is undecided on what college she is going to attend next year,  she does hope to possibly attend graduate school and pick up some internships along the way to support her academics with practical experience. Her main goal is to work with biomedical devices, such as prosthetic limbs.