Eat your stress away at these local cafes
As cafés are a common hangout spot for friends and families, Vernon Hills has been seeing new ones pop up recently. Two of the more talked about ones are Yeti Eddi and Milkcow. I went to check out these cafes and see what the hype was about. Below, you can read my opinions about the cafes, their menu items and their environments.
Yeti Eddi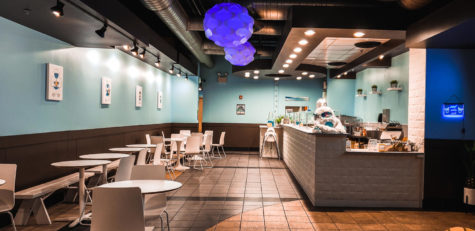 Last June, Yeti Eddi opened in Vernon Hills' Hawthorn Village Commons. The place provides a welcoming and cozy feeling right as you walk through the door.
Although it is not the most spacious, the use of modern and simple furniture effectively utilizes the shape. There are round white tables, plastic chairs, and benches. On one corner of the store, they have more comfortable couches as an alternative. They have a foosball table and a giant connect four game available for anyone to use. This is something most people enjoy about Yeti Eddi.
"The place is small, which makes its environment cozy [and] family-like," Sabrina Altynbayeva (11) said.
Yeti Eddi's menu is inspired by the Hawaiian islands and extends from lunch to dessert items. Loco Moco, Musubi, and the names of some of the smoothies are Hawaii inspired. This includes smoothies, snow cream, and taiyakis, where you get to customize your order by choosing flavors and toppings.
In a TSP survey, 60 percent of 128 students said they have visited Yeti Eddi. The top menu item was snow cream, followed by their smoothies.
Personally, I wasn't a huge fan of their snow cream, a customizable shaved ice, as it was similar to any ice cream I could have elsewhere. It is similar to Culver's Concrete Mixer in idea and price, although much smaller in size.
What I really enjoyed was Yeti Eddi's taiyakis, a fish-shaped waffle cone filled with frozen yogurt. There are three steps to building and customizing one of these.
First, the customer will have to pick a froyo flavor; they offer matcha green tea and original tart yogurt. After, a filling is needed; you can pick from chocolate, peanut butter, Nutella and red bean. Lastly, a drizzle is added from a list of available syrups.
Rating: 4.5 / 5
Milkcow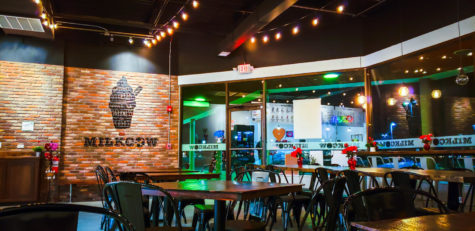 Just a few stores away from Yeti Eddi, another recently opened cafe can be found with an equally attracting menu.
Milkcow is a Korean dessert cafe, most known for its soft-serve ice cream. It was originally founded in South Korea in 2014. Now, there are more than 50 locations globally.
Last year, the franchise opened a cafe in Hawthorn Village Commons.
The cafe is similar to Yeti Eddi in size, although their use of space is different. Milkcow utilizes more space and has tables in the middle of the store surrounded by high tables toward the outside. As a fan of more personal space, their seating was not a favorite of mine.
In a TSP survey, 49 percent of 128 students said they have visited Milkcow. Although their menu includes drinks, the ice cream was more popular. A common favorite of students is the cookies and cream flavor.
At first glance, I was very impressed by their menu. There are a variety of drinks and about 12 different ice cream flavors. My choice was a Black Pearl soft-serve.
I was a little disappointed by the portion sizes of their ice creams. They were small — much smaller than Yeti Eddi's. This put me off, as their prices were no less than any other place. I felt the price was put a little too high. However, the ice cream did not disappoint; it was exactly what was described in their menu and tasted great.
Rating: 3.5 / 5