Last-minute gifts for everyone on your list
Sighing and resting on my haunches, I look around my room. It's a bit messy as wrapping paper with snowmen, snow, and/or cartoon Santas span the floor, at least three pairs of scissors are laying around, and multiple rolls of ribbon are halfway undone. Mess aside, I was finally done wrapping up presents for my friends weeks before my holiday party rolls around.
Then, I realized what the people who have procrastinated gift buying must feel like. Never fear! This gift guide offers last-minute gift ideas for all types of people in your life, and all for less than $30 (before taxes and shipping). Granted, some may come after the holiday you celebrate, but a late gift is better than no gift at all.
For the person who always wants to participate in the latest trends
Sherpa fleece pullovers are in, if you didn't happen to notice them replacing coats for most of the student population. If someone you know has been wishing to receive one for a while but claims they're too expensive, fulfill their wish with this sherpa fleece hoodie while not breaking your bank either.
It can be ordered in many different colors (black, brown, dark grey, light grey, khaki, and pink), has spacious pockets, and fulfills the need to be warm during this kind of weather. Totaling up to $17.95 before taxes and with free shipping, it's a steal and a perfect gift for someone that likes to be in style.
For the person who enjoys to unwind with a cup of tea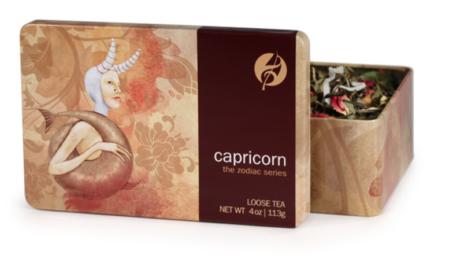 I am known as a tea connoisseur, a person who loves tea and likes trying new flavors almost every time there is an opportunity to do so. No one actually calls me that, though. If you happen to know someone that fits this trait, loose leaf tea from Adagio Teas will be a perfect gift for them.
The loose leaf tea they carry isn't just tea you can find in any convenience store. It includes specific fandom blends, like Doctor Who, Game of Thrones, Harry Potter, etc., and create-your-own blends, uncommon in the world of tea-shopping.
A three oz pouch is $12 without shipping and taxes added. The tea here is definitely worth its price and a perfect way to please a tea connoisseur, or turn someone into one.
Cecilia Gao (12) thinks so too, having had tea from Adagio Teas before.
"You really can't go wrong with tea," she said.
For the person who's hard to shop for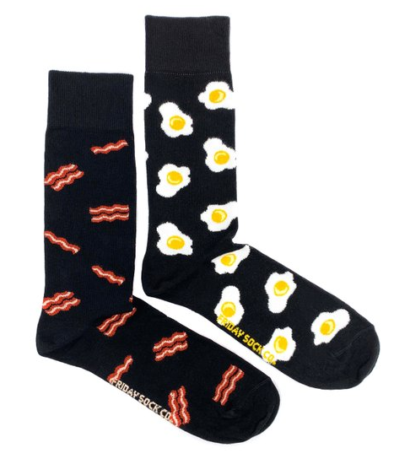 Imagine: you're stuck in the stocking stuffers section at Target, and you're looking for a gift for a male who enjoys the classic masculine things in life. You can't find anything to his liking, or at least what you'll think he likes, and you start worrying. The company "Friday Sock Co." on Etsy has your back, with some classic men's socks that are creative and mismatched.
As long as the presentee doesn't have anything personal against mismatched socks that have designs such as eggs on one and bacon on the other, popcorn on one and film cameras on the other, or tiny Earths on one and rockets on the other, it's a perfectly simple gift to just about any person on your list, costing only $12.25 plus tax. Purposefully mismatched and original socks will cost a bit more, but will be totally worth it.
"Socks are like a good gift for anyone…there are so many patterns and you can make it specific," Jillian Boes (12) said.
For the person that appreciates the small things in life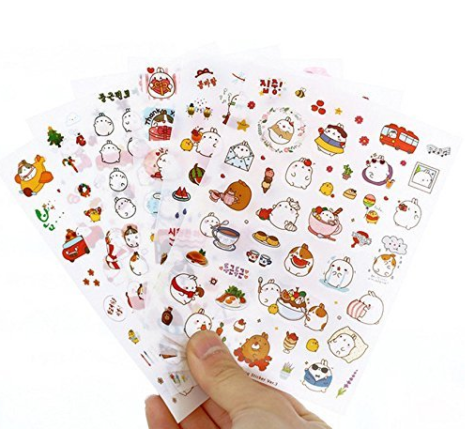 Being given a sheet of stickers (or even just one sticker) can brighten just about anyone's day. Giving someone a set of six sticker sheets can even make someone's year, which is where this gift comes in.
This set of 6 sticker sheets have a lot of variety to them and can vary depending on which set you choose. The sheets can be holiday-themed, outside activities-themed and emotion-themed and all have this cute white bunny character who is in each set.
I ordered this for a care package for a friend in college and not only did it come quicker than most Amazon packages do, they were high quality and my friend was super excited to use them in her bullet journal and on her Polaroid camera as decorations. At $7.99 without tax, it's a perfect gift for anyone who likes putting stickers on anything, or needs a general cheering-up after finals.
For the person that needs a bowl-sized mug for their beverage of choice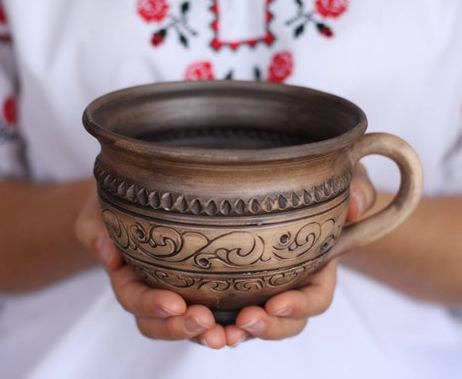 If you know someone that complains about how small the average mug is and how they can't seem to get enough coffee in their cup to get through the day, look no further than this handmade ceramic mug that more resembles a bowl than a mug from SmilingAlligator. The 17 ounce mug can be customized with its color of glaze on the inside.
Unglazed can still be a very classy choice for the inside of a mug and may even clash less compared to the other bright colors offered. Only $18.10 sans taxes and shipping, this is one of those gifts that can be bought for anyone on a gift list, as anyone can always use another mug in their cabinet.