Students attend WE Day's activism event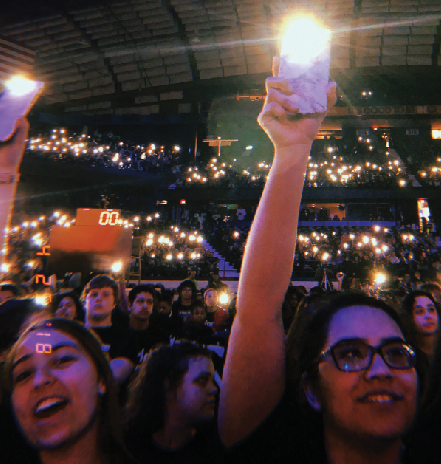 Hang on for a minute...we're trying to find some more stories you might like.
On April 25, VHHS students and staff attended WE Day Chicago, an all-day event where several prominent speakers and performers promoted the importance of activism.
Student Council and VH Give Executive Board members were all invited, and they were all able to invite one extra person. For many of the students attending, it was their first time, so they didn't know what to expect.
"Before I went, I thought it'd be boring, but it was actually pretty fun," Arun Aruloli (11) said. "Hearing artists and celebrities give their perspective on poverty and other problems was a cool experience."
This year's WE Day boasted an impressive lineup. Actors and singers such as Anthony Gonzalez and Daya appeared, but they also had more politically-focused speakers. Former President of Australia Julia Gillard, as well as Margaret Trudeau, mother of the current Canadian Prime Minister, both appeared to speak. They stressed the importance of perseverance and active citizenship in today's political climate, and encouraged young people to become active members of their communities, both local and global.
"My favorite spokesperson was Julia Gillard," Shea Neary (10) said. "Her message of fighting for global, accessible education, as well as the rights of young women was very inspiring and impactful to me."
A diverse spread of speakers appeared at the event. Many gave their own personal stories, such as former NFL player Esera Tuaolo who, after coming out as gay, created the organization Hate is Wrong. Prominent actresses Monique Coleman and Skai Jackson, both known for their roles in Disney movies and TV shows, made appearances, talking about the importance of fighting hate and being active citizens.
The day's main message was "Me to We": a phrase coined by the two creators of the WE Charity. Brothers Marc and Craig Kielburger founded the charity in 1995 in order to raise money for children in Pakistan. Since then, the charity has grown and, in addition to organizing a plethora of money-raising campaigns, it now stresses the importance of social advocacy to youth.
As the event was so activism-oriented, organizers of the trip thought it beneficial to bring the frontrunners from the Sophomore Class Activism Fair.
"WE Day connects to … problems which include supplying clean water, gender equality, education, and more," Neary, runner-up for the activism fair, said. "These are some of the many topics that VH Sophomores dealt with for our activism projects."
Many area schools such as Stevenson and Deerfield, as well as Chicago schools, were in attendance at WE Day. Since the event is so oriented towards youth, many schools see it as a good way for students to consider how they can be active in a global community.
"We do so much here for our community, school and students," Ms. Levin, one of the staff chaperones to WE Day, said. "[WE Day] shows that we aren't just confined to what's around us. There's so many other things people and students are doing outside this community to make this world better."
Before Daya's ending concert, the day wrapped up by recapping events happening in the area that students can volunteer their time. One of their main events was WE Walk For Water, a fundraising march that aimed to raise enough funds for 50,000 people in underdeveloped countries to have access to clean water for life. Brothers Marc and Craig ended their closing speech by asking the youth, or "Generation WE," to work towards making changes that will benefit those who need help.
VH teachers and students hope to bring these lessons back to Vernon Hills in order to make a global impact.