Introd(UC)ing a new resource area: Taking a look at the Upper Commons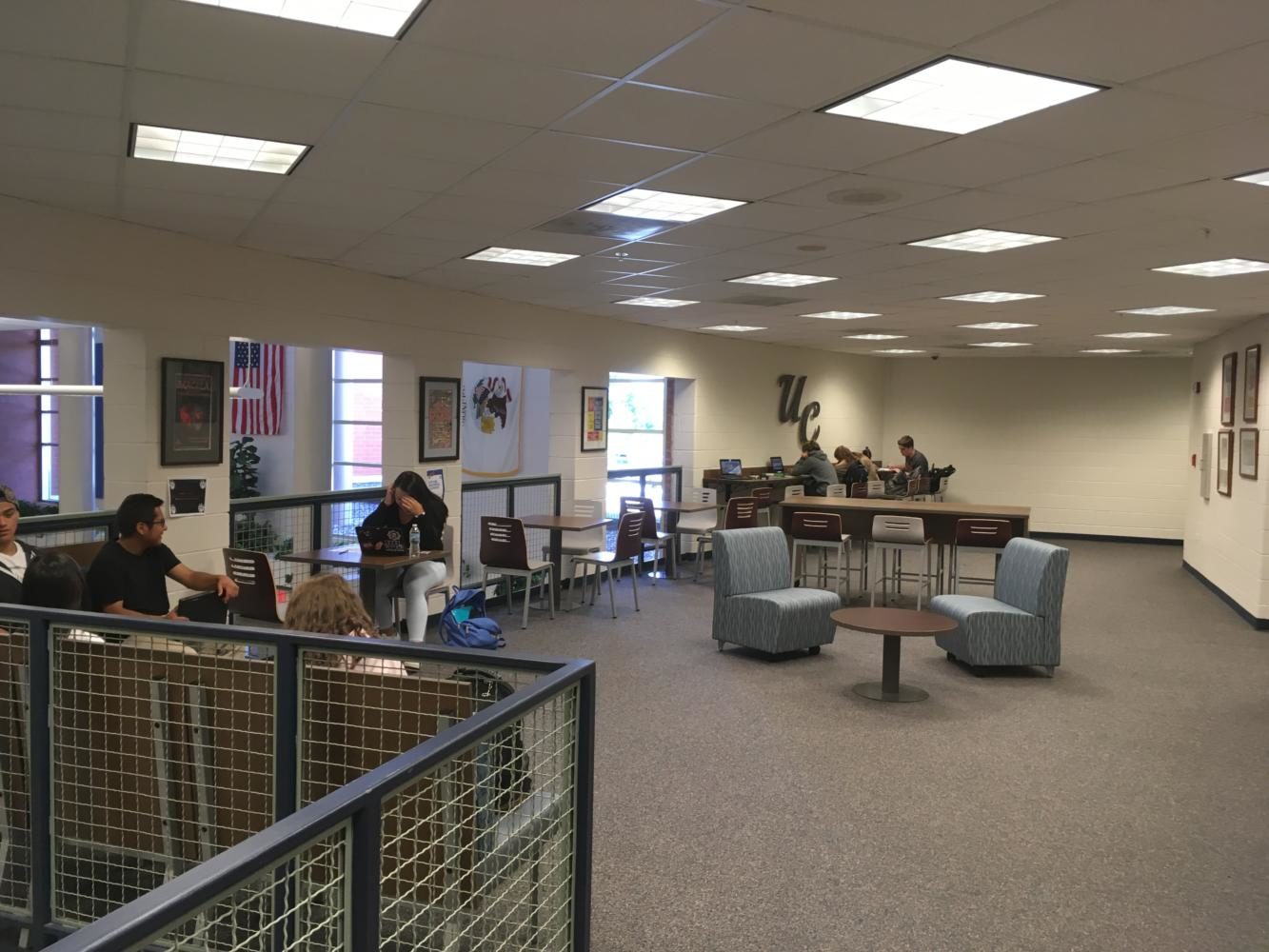 This year, Vernon Hills High School made a change to the drop-in study locations for students. Upperclassmen now have access to the Upper Commons (UC), which is a small area outside the upper entrances to the auditorium.
The UC was established as a replacement for the IRC, since the IRC is now needed for study halls and freshman transition classes. Mr. O'Brien, Assistant Principal at VHHS, said enrollment projections are growing, and the school needed more room to accommodate students and implement new classes, such as AP Seminar. A group of administrators met to help solve this issue.
"We were considering a lot of options. This option was, I think, the most feasible because it didn't require us to take any existing space and change the way that it looks," Mr. O'Brien said.
It's a bit of a small area in comparison to the IRC, but Mrs. Dovel likes to see the space being used.
She said, "I think it's a great spot. I've been here since the day this school opened and it's nice to see that they finally used this space."
Many students agree that the location is a good one. The Scratching Post polled upperclassmen, and 78 percent of juniors and seniors think that the UC is in a good spot. The survey also showed that about 83 percent of students that use the Upper Commons agreed that it is a comfortable, collaborative space for students.
"I prefer to use it because it's calming and there are more students around here, so you can ask for help," Yoselin Martinez (11) said.
However, the Upper Commons isn't open for half periods, and that causes an inconvenience for some students, which turns them away. Arth Patel (12), said time is something that prevents him from going to the UC.
"My only study hall is my lunch period, so I don't have time," Patel said.
Currently, the UC isn't getting used that much by the upperclassmen. About 56 percent of upperclassmen who responded to the survey don't use the UC. About 21 percent of students said they use it once in awhile, and only 16 percent said they use it three or more days per week.
However, many students reported they would use the UC if it was open for half-period stays. 77 percent of students thought they would use the Upper Commons for at least half of a period.
The UC is only open for full-period stays for now because administrators don't want to have to turn students away, Mr. O'Brien said. Due to the rather small space, the UC would have to stop taking in people for certain periods if too many people show up.
Overall, administrators will be looking for this year to serve as a trial run for the Upper Commons, Mr. O'Brien said. They will consider students' feedback throughout the year in order to make any necessary adjustments to the UC.