Hello, bonjour!
Out of a pool of 50 applicants, 24 lucky French students were chosen to participate in an exchange program with District 128. This particular exchange program is extraordinary because it's not like any other international trip the school takes. This opportunity is a five week program broken up between France and America. Over the summer, d128 students spent 2 weeks in Angers, living with a French exchange student, then finished their trip with a week in Paris. Then, for two weeks during October the same French students came to America and stayed 2 weeks with the same American exchange students that previously lived with them.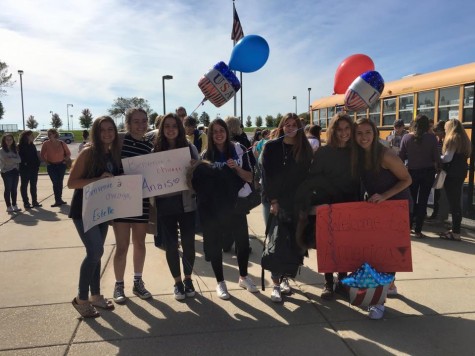 For the two weeks that the French students were in town they traveled to a plethora of "staple" tourist areas around the Chicagoland area. Some include, a Bulls game, Six Flags, a boat tour of the city, Independence Grove, the Field Museum, the Shedd Aquarium, the Bean, Millennium Park, Jelly Belly factory, Gurnee Mills, Richardson's farm, and according to one student Louise, "chaque restaurant possible," or every possible restaurant.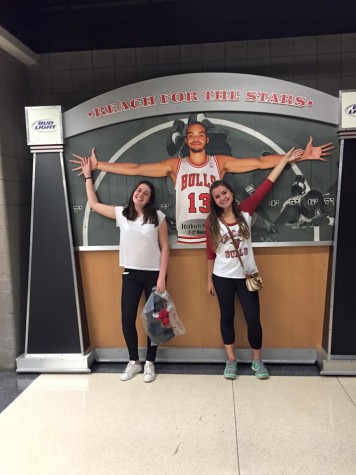 Another French student, Anais, said this trip made her feel "infinite". She loved coming to America for the first time, "especially with no parents."
A main goal of this trip is to create a bond between two cultures through language. American student Lexi Reich (12) and her exchange student Estelle both said they watched the language foreign to them improve greatly.
Reich said, "I learned more on this trip than I ever could've in the classroom."
Monsieur Giuard, a french teacher at VHHS, organizes the entire trip himself. His wife makes the daily schedules and ensures they run smoothly. He is celebrating his 10th year anniversary of this French exchange program.
Monsieur says the best part of this program is, "the satisfaction of seeing a student from each country come so close together over two [five total] weeks."
This program is a wonderful opportunity to connect worldwide, and to stay in contact. Collectively, the 5 French students I talked to said, "Thanks to America, we discovered a new country and we made cool new friends".