Breakdown of the College Application Process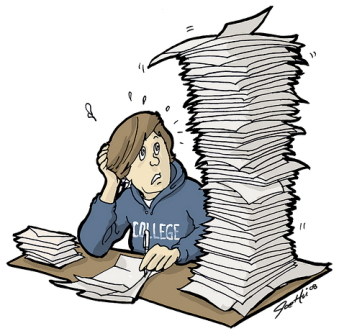 It's that time of the year again: college application season. Each year, seniors face the struggles that accompany this dreaded process. For some, the stress is manageable. For others, it's anything but feasible. In a survey of 85 seniors, the truth behind college applications was revealed.
Stress in inevitable for most seniors during this time. When asked how many hours seniors spend on college applications, 21% answered over 20 hours.
"It was nice to have some time in College Prep to write my essay, but a majority of work for college apps is done outside of school. It's very time consuming," said Kelly Davis (12), who spent around 15 hours on 11 applications.
The thought of college was like a dangling cloud in the sky to most students–visible but oh-so far away. College visits are now swarming with seniors as they spend hours upon hours finding the right college.
"I applied to lots of schools to keep my options open. It's nice to have a safety net," said Davis.
However, not all students believe in having a "safety net."
"I didn't want to spend time applying to colleges I wouldn't consider even if I was accepted," said Zak Umansky (12).
Zak said he spent about 11 hours on applications. It's important to be organized so this process can be as efficient and painless as possible.
"For me personally, I started the common app before school started to free up some time," said Umansky.
Others took a different approach: "I started applying to college when school started so I could have the CRC as an available resource to answer all my questions," said Tatiana Lehocky (12).
In the survey, 59% of seniors answered they made use of the College Resource Center (CRC), which hosted multiple application workshops days throughout this year. Over 100 students benefited from the counselors and free pizza.
"It's important for students to really use the CRC and have ongoing conversations with their counselors," said Mr. Birtman, VHHS' college counselor.
"Naviance has made the college application process really efficient. Communication is key to make sure students send transcripts, test scores, and letters of recommendation," added Mrs. Netland, the CRC assistant.
Another component of an application is the dreaded essay(s). 66% of seniors admitted that writing essays was the most challenging aspect of the college application process.
"My friends, teachers, and family helped edit and give general advice on my essays," said Caleb Ju (12).
"You want to get your essays edited by multiple people," agreed Umansky.
Furthermore, while many people find the Common Application frustrating and limiting, 74% of seniors use it. Mr. Birtman believes this application is becoming far more familiar to students each year and that the way students apply to college has evolved.
"It was frustrating because you would think you were done with the Common App, but almost every school requires an additional essay," said Davis.
The complexity of this process is evident, yet, it's all what one makes of it. The stress and pressure can be unmanageable at times, but hopefully for most students, this process results in acceptance.
College graph 1 College graph 2 College graph 3 College graph 4 College graph 5