Then and Now: Homecoming Fashion Trends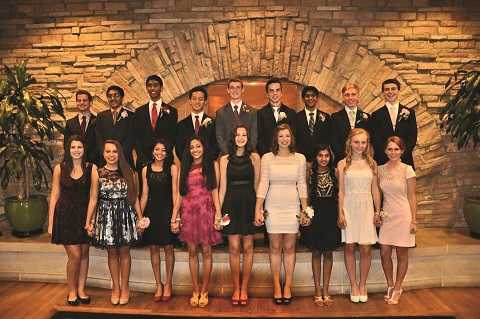 The early 2000s brought bold statements to the homecoming scene. Two VHHS staff members
sent in photos from their own school dances to show changes in fashion trends from then and now.
Both Mrs. Bastiani and Mrs. Johnson's have similar straight across necklines and daring patterns and colors. This year, many girls chose dresses with illusion, jewel, or high necklines. Recent years have shown trends in classic black and nude tones.
Our VHHS staff examples both have shiny and stiffer looking fabrics. Homecoming 2015 trends are moving towards fabrics that are more relaxed and flowy. Very few dresses are made out of satin anymore. Instead, dresses are made of chiffon with jewels and sequins to add sparkle.
Continuing trends throughout the past century, acceptable dress lengths have become increasingly shorter. For homecomings, girls typically wear short dresses above the knee. Select senior girls at VHHS will wear long dresses such as Alyssa Pasternack (middle), while others stick to wearing shorter and more casual dresses such as Anusha Das (12) and Izzy Lopez (12) (bottom left).
Mens formal wear has stayed relatively the same for a long time. The only variations from a black suit and colored tie were in the occasional grey suit or patterned tie. 
Reynaldo Franco (12) (not pictured) defied all expectations in a burgundy suit this year. 
¨I knew that people wouldn't go out of the box with color¨ said Franco. ¨I didn't want to be confined to just black – I love color.¨ 
The biggest difference between the standard men's fashion pictured is how much they matched with their dates.
¨My date picked out her dress and sent me a picture and then I found a tie to match her,¨ said Ryan Ciehanski (12). 
Mrs. Johnson's date (top right) does not match his tie with her outfit except for the blue flowers in her corsage. Mrs. Bastiani's date didn't wear any red, but stays within a basic black, white, and red color scheme similar to Daguinsin and Holloway. Black and white with red or blue accents was a common theme throughout the Vernon Hills student body.