Sociology students go to local PADS sites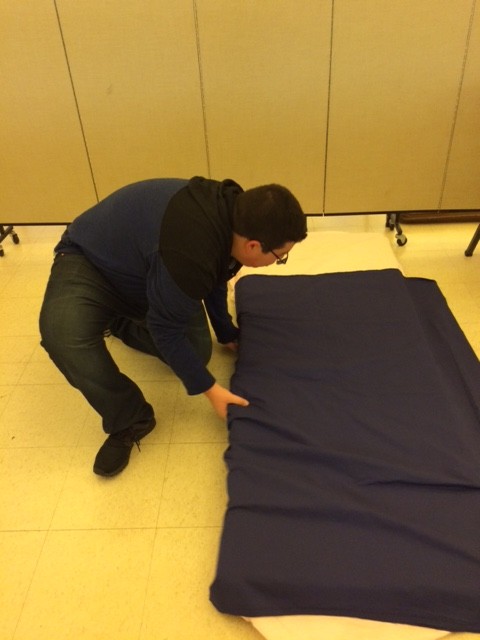 Throughout this semester, Mrs. Dircks's Sociology classes are going to local PADS sites (Providing Advocacy, Dignity, and Shelter) for a project that allows kids who have homes to see how people without them live.
The Lake County PADS website defines its mission as a "comprehensive approach to combating homelessness with the compassion and respect we all deserve."
PADS sites have been around for several years; volunteers go to a church for several hours to help serve the guests food, assist younger kids with homework, and help set up the actual pads that the guests are going to be sleeping on.
Guests must be registered at the sites prior to their arrival or have a temporary ID in order to stay the night. Guests are not allowed to go to the site before 6:45 pm but they must arrive before 9 pm otherwise they are not allowed to stay the night. They must leave the site before 7 am otherwise they will be forced off by the police.
Mrs. Dircks originally got the idea of having the Sociology classes go to these PADS sites because it's a good way for students to understand the difference between their lives and the lives that the guests have.
"It really gives kids the sense of seeing what else is out there beyond the walls of Vernon Hills, really getting a feel for what your community is like, and a lot of different kinds of people," Dircks explained.
There are four PADS sites in the area; Saint Mary of Vernon, United Methodist Church, First Presbyterian Church, and Shepherd of the Lakes. These PADS sites offer food, shelter, clothes, toothpaste, toothbrushes, shampoo, conditioner- anything that someone could possibly need.
"Everyone says the stereotypes of homelessness are a problem," Dircks said. "[They] think a homeless person is someone who is addicted to drugs and alcohol. Many of them are families who have lost their jobs during a recession. A lot of veterans are homeless. You can't just stereo-typically label a homeless person."
The cost of housing in Lake County is often too high for people to be able to afford. The PADS sites offer cell phones, dress clothes, and somewhere to sleep for these people because the only thing that the guests can not afford is housing.
"People don't talk about how big of a difference you can make to a select amount of people." agreed Ellis Gaidamak (11).
Students are often worried about the first time they go and volunteer at the PADS sites. There are concerns that the guests there are going to be addicted to drugs, drunk, or aggressive towards the students.
"I've been volunteering at PAD Shelter since I was eight or nine with my family," Gaidamak said. He also said he isn't nervous about going to the shelters because he can take any rude comment thrown his way in stride.
There haven't been any recorded instances of anyone from VHHS getting involved in a troubled guest, but each site is prepared to take action in case something does occur. The site managers make sure that any of the guests are not allowed to have drug problems, they must be sober, and if they are aggressive towards anyone, they will be removed from the site by the police.
Students felt that going to the PADS sites was a great learning experience for anyone who goes and donates their time; they also had a sense of good doing after they returned home from volunteering and being happy to be able to do something for someone.